Stroud Water Research Center honors Laura Turner Seydel, chair of Captain Planet Foundation
Stroud Water Research Center honors Laura Turner Seydel, chair of Captain Planet Foundation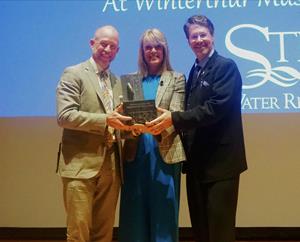 Avondale, PA, Oct. 04, 2023 (GLOBE NEWSWIRE) — Stroud™ Water Research Center bestowed the 2023 Stroud Award for Freshwater Excellence to Laura Turner Seydel, a global champion of Earth stewardship, on Tuesday, October 3 at Winterthur Museum, Garden & Library in Delaware.
The Water's Edge is an annual gala and award presentation that recognizes an individual or organization making a lasting impact on freshwater systems.
Approximately 200 guests enjoyed hearing Turner Seydel share inspirational stories about how she and her collaborators are addressing urgent challenges affecting environmental health and sustainability.
Her notable accomplishments include:
Chairing the Captain Planet Foundation, which has overseen the funding of hands-on projects in 90 countries and empowered millions of young people to be problem-solvers for the planet.
Co-founding the Chattahoochee Riverkeeper in 1994.
Co-founding Mothers & Others for Clean Air whose mission is to protect children's health by reducing the impacts of air pollution and climate change.
Serving as a Patron of Nature with the International Union of the Conservation of Nature to address the extinction crisis.
Co-founding Atlanta Recycles in 2005.
Serving as a director of the Environmental Working Group, a nonprofit advocacy organization that delivers research and resources to consumers so they can make informed decisions.
Turner Seydel said, "I am very honored to receive the Stroud Award for Freshwater Excellence from the Stroud Center. There are many synergies between the work of the Stroud Center and my passions for the environment like providing resources and training to students to become problem-solvers for the planet, making sure our waters are safe and healthy for people and wildlife, and working with regenerative agriculture to save the planet's topsoil, restore freshwater systems, and fight climate change. Please join me in using your individual superpowers for the planet. Together, our greatest legacy can be safeguarding our life support systems for future generations."
Executive Director David Arscott, Ph.D., said, "Laura is an inspiring example of how a can-do attitude, backed up with hard work and optimism, can bring change to our toughest environmental challenges. Her contributions are wide-ranging and connect to many of the critical issues we confront with our work at the Stroud Center. She is at the forefront of soil health and making progress in protecting the productivity of farms and the quality of our environment well into the future. It's a pleasure to recognize Laura's leadership with this award."
After the award presentation, guests enjoyed an elegant dinner featuring a specially curated menu of seasonal and local fare courtesy of Winterthur Chef Matthew Anderson.
Many patrons and sponsors helped make The Water's Edge a success, including: 
Premiere Sponsor: Wilmington Trust.
Lead Sponsors: Blue Yak Foundation; Brown Brothers Harriman Trust Company of Delaware, NA; Colonial Pipeline; Fresh Start Development Company; Meg and Dick Hayne; Moorhead Family Foundation; Mr. and Mrs. Stephen Stroud; and Mr. and Mrs. W.B. Dixon Stroud. 
Key Sponsors: A full list is available on the Stroud Center's website. 
Since its inception in 2003, The Water's Edge has featured an impressive list of individuals who have made noteworthy contributions to the world of science, fresh water, and conservation. Previous speakers and Stroud Award for Freshwater Excellence recipients have included luminaries such as Jane Goodall; Olivia Newton-John and John Easterling; leading climate scientist and author Michael E. Mann; American Rivers and its president, Bob Irvin; His Serene Highness Prince Albert II of Monaco; The Redford Center; Alexandra Cousteau; Melissa D. Ho of World Wildlife Fund; and others.
***
About Stroud Water Research Center 
Stroud Water Research Center advances knowledge and stewardship of freshwater systems through global research, education, and watershed restoration and helps businesses, landowners, policymakers, and individuals make informed decisions that affect water quality and availability around the world. Stroud Water Research Center is an independent, 501(c)(3) not-for-profit organization.
Attachment
Stroud Water Research Center honors Laura Turner Seydel, chair of Captain Planet Foundation
CONTACT: Diane Huskinson Stroud Water Research Center 610-910-0048 [email protected] Jennifer Merrill Stroud Water Research Center 610-910-0043 [email protected] 

Disclaimer: The above press release comes to you under an arrangement with GlobeNewswire. Agrigate Global takes no editorial responsibility for the same.