Agricultural Packaging Market Hits $24.3 Billion in 2022, Awaits Robust Growth Through 2028
Global Agricultural Packaging Market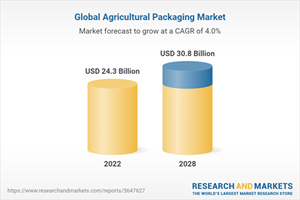 Dublin, Oct. 04, 2023 (GLOBE NEWSWIRE) — The "Agricultural Packaging Market: Global Industry Trends, Share, Size, Growth, Opportunity and Forecast 2023-2028" report has been added to ResearchAndMarkets.com's offering.
The global agricultural packaging market has achieved remarkable progress, reaching a substantial valuation of US$ 24.3 billion in 2022.
Looking ahead, market experts predict further expansion, with the market anticipated to soar to a substantial US$ 30.8 billion by 2028. This anticipated growth reflects a noteworthy Compound Annual Growth Rate (CAGR) of 4.2% during the forecast period spanning 2023 to 2028.
Exploring Agricultural Packaging: Safeguarding Harvests
Agricultural packaging encompasses the storage and packaging of essential agricultural products such as fertilizers, pesticides, and yields. It includes various types of packaging, including silo bags, bulk bags, pouches, bottles, drums, cans, trays, clamshells, and more.
These packaging materials can be constructed from a variety of materials, including paperboard, metal, glass, jute, high-density polyethylene (HDPE), low-density polyethylene (LDPE), and polypropylene (PP). They play a pivotal role in providing ample ventilation and safeguarding contents against spoilage during post-harvest treatments, storage, and transportation. Additionally, these packaging solutions contribute to enhancing product shelf life, enabling branding and food labeling, and regulating internal temperatures within the packaging.
Market Dynamics: Driving Factors
One of the key drivers of market growth is the significant expansion of the agricultural industry and the heightened global trade of agricultural products. With the world's population on the rise and an increasing demand for food, there has been a notable uptick in import and export activities involving agricultural packaging products. These products are instrumental in securely transporting harvest shipments across vast geographical regions.
Moreover, the widespread adoption of agrochemicals and biologicals has further spurred market growth. Farmers are increasingly employing flexible packaging solutions like bag-in-box and pouches to store agrochemicals, thereby minimizing exposure to toxic pesticides and fertilizers.
The market is also benefiting from product innovations, including the development of sustainable packaging materials equipped with temperature adjustment properties. These materials act as a barrier against moisture and air, protecting contents from degradation. Other contributing factors include extensive research and development (R&D) endeavors within the packaging industry.
Market Segmentation: Material Type, Product, Barrier Strength, and Application
The global agricultural packaging market report provides a comprehensive analysis of key trends in each sub-segment. It offers forecasts at the global, regional, and country levels for the period spanning 2023 to 2028. The market is segmented based on material type, product, barrier strength, and application:
Breakup by Material Type:
Plastic

Flexible Plastic
Rigid Plastic

Metal
Paper and Paperboards
Composite Materials
Others
Breakup by Product:
Pouches and Bags
Drums
Bottles and Cans
Others
Breakup by Barrier Strength:
Low
Medium
High
Breakup by Application:
Food Products
Fertilizers, Pesticides, and Biologicals
Others
Regional Insights: Global Reach
The global market spans various regions, including:
North America
Asia Pacific
China
Japan
India
South Korea
Australia
Indonesia
Others
Europe
Germany
France
United Kingdom
Italy
Spain
Russia
Others
Latin America
Middle East and Africa
Competitive Landscape: Leading Players
The competitive landscape within the industry has been thoroughly assessed, with key players in the market including Amcor Group GmbH, Bemis Company, Inc., Sonoco Products Company, Greif, Inc., Mondi plc, LC Packaging International BV, Flex-Pack, NNZ BV, Silgan Holdings Inc., ProAmpac Intermediate, Inc., Purity Flexpack Limited, and ePac Holdings, LLC.
Key Questions Answered:
What was the size of the global agricultural packaging market in 2022?
What is the expected growth rate of the global agricultural packaging market during 2023-2028?
What has been the impact of COVID-19 on the global agricultural packaging market?
What are the key factors driving the global agricultural packaging market?
What is the breakdown of the market based on material type?
What is the breakdown of the market based on the product?
What is the breakdown of the market based on barrier strength?
What is the breakdown of the market based on the application?
What are the various stages in the value chain of the industry?
What are the key driving factors and challenges in the industry?
What is the structure of the global agricultural packaging market, and who are the key players?
What is the degree of competition in the industry?
Key Attributes:
| | |
| --- | --- |
| Report Attribute | Details |
| No. of Pages | 147 |
| Forecast Period | 2022 – 2028 |
| Estimated Market Value (USD) in 2022 | $24.3 Billion |
| Forecasted Market Value (USD) by 2028 | $30.8 Billion |
| Compound Annual Growth Rate | 4.0% |
| Regions Covered | Global |
For more information about this report visit https://www.researchandmarkets.com/r/ymfwg
About ResearchAndMarkets.com
ResearchAndMarkets.com is the world's leading source for international market research reports and market data. We provide you with the latest data on international and regional markets, key industries, the top companies, new products and the latest trends.
Attachment
Global Agricultural Packaging Market
CONTACT: CONTACT: ResearchAndMarkets.com Laura Wood,Senior Press Manager [email protected] For E.S.T Office Hours Call 1-917-300-0470 For U.S./ CAN Toll Free Call 1-800-526-8630 For GMT Office Hours Call +353-1-416-8900 

Disclaimer: The above press release comes to you under an arrangement with GlobeNewswire. Agrigate Global takes no editorial responsibility for the same.