NCMS Report Establishes Road Map for Accelerating Transition from Gas-Powered to Electric Vehicles
NCMS's Latest Technology Brief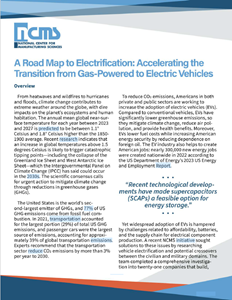 Ann Arbor, MI, Sept. 14, 2023 (GLOBE NEWSWIRE) — The National Center for Manufacturing Sciences (NCMS) announces the publication of a new Technology Brief focused on ways to accelerate the nation's transition from gas-powered to electric vehicles.
To reduce the United States' generation of CO-2 emissions, Americans in both private and public sectors have been working to increase the adoption of electric vehicles (EVs). Yet widespread adoption of EVs is hampered by challenges related to affordability, battery capacity, and the supply chain for electrical component production.
A recent NCMS initiative sought solutions to these issues by researching vehicle electrification and potential crossovers between the civilian and military domains. The team completed a comprehensive investigation and designed a road map for transitioning from gas-powered vehicles to fully electric vehicles. While this road map focuses on transitioning US Army vehicles to a fully electric fleet, it can also be applied to other organizations with large vehicle fleets including federal agencies, state and local governments, universities, and commercial industries.
The initiative identified a plan that would move the Army's non-tactical vehicles to all-electric (AE) by 2035, and then for all Army vehicles to become AE by 2070. The study recommends a gradual transition, beginning with parallel hybrid electric (HE) vehicles with an upgradeable configuration to AE. Between 2030 and 2065, the Army would establish a mixed HE and AE fleet. This builds in time for phasing out internal combustion engine components and parts, phasing out HE parts, and allowing for the maturity of AE vehicles.
The initiative also focused on the need to improve EV battery performance. The study found that recent technological developments have made supercapacitors (SCAPs) an important option for energy storage. In contrast to batteries, which use chemistry in the form of chemical potential, to store energy, SCAPs store energy in the form of electrical charge. This allows for rapid charge times (on the order of a few seconds). Moreover, unlike batteries, SCAPs do not experience degraded power under extreme weather conditions. While it is unlikely that SCAPs will replace batteries completely, they can have supplemental benefits in combination with a system's battery.
Finally, the study emphasized that much work is still needed regarding access to strategic materials for EVs. The US must secure its rare earth and strategic materials supply chains, and to do so, must invest R&D funding to expand rare earth materials mining and processing, and where possible, to identify alternative rare earth materials.
To learn more about NCMS's involvement in this critical initiative, see the full Technology Brief: https://www.ncms.org/news/technology-brief/a-road-map-to-electrification-accelerating-the-transition-from-gas-powered-to-electric-vehicles/.
About NCMS
NCMS is a cross-industry technology development consortium dedicated to improving the competitiveness and strength of the US industrial base for over three decades. NCMS leverages a network of industry, government, and university partners to develop, demonstrate, and transition innovative technologies efficiently, with less risk and lower cost. NCMS enables world-class companies to work effectively with other members on new opportunities—matching highly capable companies with the providers and end users who need their innovations and technology solutions. The NCMS network benefits from an accelerated progression of idea creation through execution. Learn more at https://www.ncms.org, at NCMS's LinkedIn, and at @ncmsmfg.  
Attachment
NCMS's Latest Technology Brief
CONTACT: Pam Hurt, NCMS Vice President for Communications and Partnership National Center for Manufacturing Sciences (NCMS) 248-867-3525 [email protected] 

Disclaimer: The above press release comes to you under an arrangement with GlobeNewswire. Agrigate Global takes no editorial responsibility for the same.