August U.S. Retail Spending Results Reflect Easing Inflation and Adjusted Consumer Priorities, Reports Circana
Declining prices contribute to slowing growth in food and beverage spending, and back-to-school shopping remains tardy
Weekly Spending Changes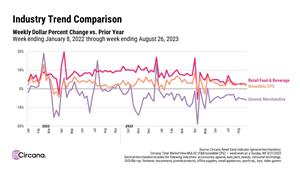 CHICAGO, Sept. 14, 2023 (GLOBE NEWSWIRE) — In August 2023, U.S. retail sales revenue, including both discretionary general merchandise and consumer packaged goods (CPG), remained unchanged compared to the same month last year, and unit sales declined 2%. Discretionary general merchandise spending declines continued with a 5% decline in dollar sales and 7% drop in unit sales compared to last August. CPG spending gains slowed slightly from last month, with 3% growth in food and beverage, a 2% increase in non-edible revenue compared to last year. Demand levels held steady from July across CPG, with unit sales falling 1% and 3% respectively in edible and non-edible segments, according to Circana, formerly IRI and The NPD Group.
"The purse strings are tightening and shifting when it comes to retail spending," said Marshal Cohen, chief retail industry advisor for Circana. "Inflation is easing, but consumers continue to feel the pinch of still-elevated food and beverage prices. Impacts of higher prices, lower demand, and weather disruption may be starting to extend beyond discretionary spending."
When it comes to food and beverage spending, households continue to look for deals and switch to lower-cost options to save money. But pockets of indulgence remain in areas like perimeter bakeries, butcher shops, and other specialty stores. Delayed discretionary general merchandise purchasing during the key back-to-school season further illustrates the shifts in how and when consumers prioritize spending.
Shifts in consumer spending have been evident when monitoring year-over-year spending trends. When those same trends for discretionary general merchandise, food and beverage, and non-edible CPG are viewed together, a picture of changing consumer priorities emerges. Over the past two years, the once minimal gap in spending changes across general merchandise, food, and non-edible CPG has varied. A year ago, spending on food and beverages rose above non-edible CPG and a declining general merchandise segment. Now, slowing growth activity has closed the gap between food and non-edible CPG, but their gains are still outperforming general merchandise, which has established a new baseline.
"Manufacturers and retailers need to adjust to and align with the consumer's priorities in order to maximize purchase opportunities through this year's remaining shopping holidays and into the year ahead," said Cohen, "Consumers are spending on their needs, and on their schedule."
###
About Circana
Circana is the leading advisor on the complexity of consumer behavior. Through unparalleled technology, advanced analytics, cross-industry data and deep expertise, we provide clarity that helps almost 7,000 of the world's leading brands and retailers take action and unlock business growth. We understand more about the complete consumer, the complete store, and the complete wallet so our clients can go beyond the data to apply insights, ignite innovation, meet consumer demand and outpace the competition. Learn more at www.circana.com.
Contact:
Janine Marshall
[email protected]
Attachment
CONTACT: Janine Marshall Circana 5166252356 [email protected] 

Disclaimer: The above press release comes to you under an arrangement with GlobeNewswire. Agrigate Global takes no editorial responsibility for the same.