Whole Exome Sequencing Market revenue to reach USD 43.36 Billion by 2035, says Research Nester
Prominent whole exome sequencing (WES) market players include Bio-Rad Laboratories Inc., Ambry Genetics, Eurofins Discovery, Thermo Fisher Scientific, Inc., F. Hoffmann-La Roche Ltd, Agilent Technologies Inc., BGI Group, Macrogen Inc., and Azenta US Inc.
New York, Aug. 17, 2023 (GLOBE NEWSWIRE) — The global whole exome sequencing market size is expected to expand at ~25% CAGR from 2023 to 2035. The market is anticipated to garner a revenue of USD 43.36 billion by the end of 2035, up from a revenue of ~USD 2.98 billion in the year 2022.WES is a technique used to sequence the protein-coding regions of the genome, providing valuable insights into genetic variations and their potential implications for diseases. The advancements in genomic research have been instrumental in driving the growth of the WES market. Researchers are increasingly leveraging WES to gain insights into genetic variations associated with various diseases, including cancer, rare genetic disorders, and inherited diseases. The growing understanding of the role of genetic variations in disease development and personalized medicine has fueled the demand for WES.
Request Free Sample Copy of this Report @
https://www.researchnester.com/sample-request-4794
Moreover, the cost of sequencing has significantly decreased over the years, making WES more accessible and affordable. The introduction of high-throughput sequencing technologies and advancements in sequencing platforms have contributed to cost reduction. In 2001, the cost was approximately USD 100 million, but by 2021, it had dropped to less than USD 1,000 per genome.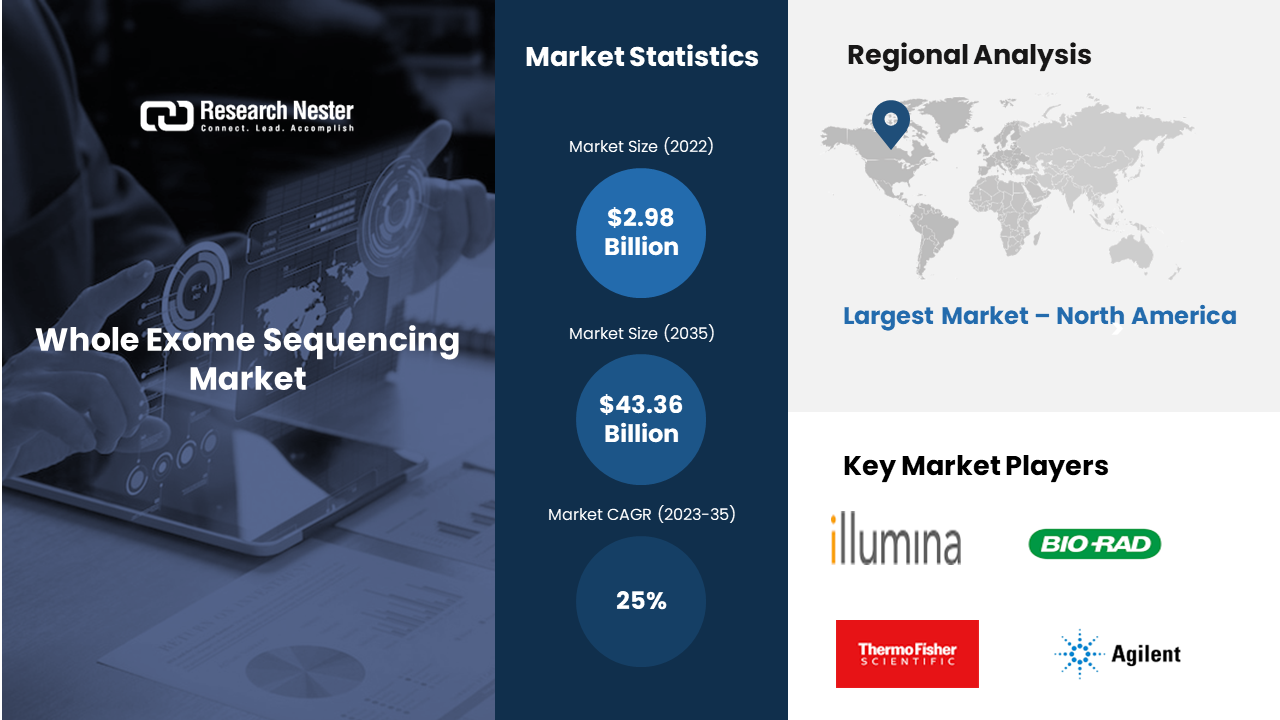 Whole Exome Sequencing Market: Key Takeaways
Market in North America to propel the highest growth
The personalized medicine segment to garner the highest growth
Market in Asia Pacific to grow at the highest rate
Growing Demand for Precision Medicine across the Globe to Boost Market Growth
Precision medicine relies on genomic information, including data from WES, to tailor treatments to individual patients, driving the demand for WES and supporting market growth. The prevalence of genetic diseases, including rare genetic disorders, has increased globally. WES provides a comprehensive analysis of the exome, enabling the identification of disease-causing mutations and aiding in accurate diagnosis. The growing need for early and precise diagnosis of genetic diseases has driven the adoption of WES in clinical settings, supporting market growth. The National Institutes of Health (NIH) estimates that there are approximately 6,000 to 8,000 known rare genetic diseases.
WES has found extensive application in oncology research, facilitating the identification of somatic mutations and genetic drivers of cancer. It helps in understanding tumor heterogeneity, predicting treatment response, and guiding personalized cancer therapies. The growing focus on precision oncology and the need for targeted cancer treatments have propelled the demand for WES in oncology research.
Whole Exome Sequencing Market: Regional Overview
The market is segmented into five major regions including North America, Europe, Asia Pacific, Latin America, and the Middle East and Africa region.
Growing Prevalence of Genetic Diseases to Drive the Market Growth in the North America Region
The whole exome sequencing market in the North American region is estimated to garner the largest revenue by the end of 2035. The regional growth can majorly be attributed to the growing prevalence of genetic diseases. According to the National Organization for Rare Disorders (NORD), there are approximately 7,000 known rare diseases affecting 25-30 million Americans. WES helps in diagnosing and understanding the genetic basis of these diseases, driving its adoption in clinical settings. Chronic diseases are a special category of silent diseases that, if not treated in time, can cause irreversible damage in humans. Therefore, the market for whole exome sequencing is growing in North America.
Furthermore, as genomics-focused pharmacology continues to grow, next-generation sequencing (NGS) is emerging as a powerful tool to gain deeper and more precise insights into the molecular basis of individual tumors and specific recipients. It continues to play a larger role in the treatment of several chronic diseases. Diseases, especially cancer in North America.
Make an Inquiry Before Buying this Report @
https://www.researchnester.com/inquiries-before-buying-4794
Growing Awareness and Focus on Genomic Research to Propel the Growth in the Asia Pacific Region
The Asia Pacific whole exome sequencing market in the Asia Pacific region is estimated to garner the highest CAGR by the end of 2035. The growth of the market in this region can primarily be attributed to the growing awareness and focus on genomic research. The awareness and focus on genomic research in the APAC region are increasing. Governments and research institutions are investing in genomics research initiatives. For instance, the GenomeAsia100K project aims to sequence the genomes of 100,000 individuals from across Asia. This project, along with others, highlights the growing emphasis on genomic research in the region.
The field also struggles with a lack of medical knowledge and commitment when it comes to identifying and addressing patients' unmet needs. More importantly, these deficiencies are exacerbated by paternalistic healthcare systems in the region, where patients' views are rarely valued or heard. Therefore, the government is taking initiatives to raise awareness among the population and is also investing heavily in exome sequencing research and development.
Whole Exome Sequencing, Segmentation by Application
Diagnostics
Drug Discovery & Development
Personalized Medicine
Agriculture & Animal Research
 Amongst these four segments, the personalized medicine segment in whole exome sequencing market is anticipated to hold the largest share over the forecast period. The growth of the segment is due to the increasing prevalence of several types of cancer. With more people than ever having their first cancer diagnosis later in life, second cancers are becoming more common. One in five cancer patients in the United States has already experienced another malignant disease. Therefore, more and more value is being placed on personalized medicine. Additionally, this is also due to a fundamental shift from the one-size-fits-all model for treating people with disorders or a predisposition to disease, toward a model that leverages novel approaches, including personalized, targeted medicines, for best outcomes. To benefit from personalized treatment, a number of national and international genomics initiatives have been launched. Unlike whole genome sequencing, exome and targeted sequencing offer a trade-off between cost and benefit.
Whole Exome Sequencing, Segmentation by Product
Amongst these segments, the services segment in whole exome sequencing market is anticipated to hold a significant share over the forecast period. Thanks to the advanced bioinformatics visualization capabilities provided by next-generation sequencing (NGS) and data analysis services, researchers could spend more time on their work than on tedious analysis tasks. These sequencing services offer a variety of services including experimental design, library construction from a variety of samples, and downstream DNA sequencing analysis. These services have reduced the complexity of a range of bioinformatics problems for scientists and researchers, thereby reducing the time and cost of sequencing and data management. The use of whole exome sequencing, which focuses on the most important part of the genome, allows researchers to use sequencing and analysis resources more effectively.
Request for Customization of this Report @
https://www.researchnester.com/customized-reports-4794
Whole Exome Sequencing, Segmentation by Technology
Sequencing by Synthesis
ION Semiconductor Sequencing
Whole Exome Sequencing, Segmentation by End-User
Hospitals
Clinics
Research Centers
Academia & Government Institutes
Pharmaceutical & Biotechnology Companies
Few of the well-known industry leaders in the whole exome sequencing market that are profiled by Research Nester are Bio-Rad Laboratories Inc., Ambry Genetics, Eurofins Discovery, Thermo Fisher Scientific, Inc., F. Hoffmann-La Roche Ltd, Agilent Technologies Inc., BGI Group, Macrogen Inc., Azenta US Inc., and other key market players.
Recent Development in the Market
BGI Group, Ruijin Hospital and the Institute of Translational Medicine of Shanghai Jiao Tong University using BGI's DNBSEQ sequencing platform generated the first virological blood profile of the Chinese population in October 2022. This analysis included a comprehensive examination of non-human genetic sequences in whole genome sequencing (WGS) data from approximately 10,584 individuals from the China Metabolic Analysis Program (ChinaMAP). The results, published in the journal Cell Discovery, serve as a resource for the epidemiology and prevention of viral infections.
Bio-Rad Laboratories, Inc., a global leader in life science research and clinical diagnostic products, introduced the SEQuoia RiboDepletion Kit, which increases assay efficiency by removing useless ribosomal RNA (rRNA) fragments from an RNA-Seq -Library removed.
About Research Nester
Research Nester is a one-stop service provider with a client base in more than 50 countries, leading in strategic market research and consulting with an unbiased and unparalleled approach towards helping global industrial players, conglomerates and executives for their future investment while avoiding forthcoming uncertainties. With an out-of-the-box mindset to produce statistical and analytical market research reports, we provide strategic consulting so that our clients can make wise business decisions with clarity while strategizing and planning for their forthcoming needs and succeed in achieving their future endeavors. We believe every business can expand to its new horizon, provided a right guidance at a right time is available through strategic minds.
CONTACT: AJ Daniel Corporate Sales, USA Research Nester Email: [email protected] USA Phone: +1 646 586 9123 Europe Phone: +44 203 608 5919

Disclaimer: The above press release comes to you under an arrangement with GlobeNewswire. Agrigate Global takes no editorial responsibility for the same.