The Habit Burger Grill Launches Brand-New "Simple Crafts" Menu for a Limited Time Only
Starting November 1, a "Simply Delicious" Trio of Handcrafted, Fresh, Quality Items Available For $5 Each
THE HABIT BURGER GRILL LAUNCHES BRAND-NEW "SIMPLE CRAFTS" MENU FOR A LIMITED TIME ONLY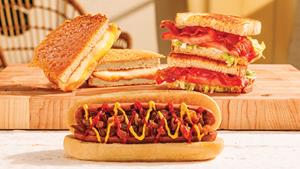 IRVINE, Calif., Oct. 26, 2023 (GLOBE NEWSWIRE) — Habit Burger Grill, the celebrated California-born restaurant chain known for its flame-grilled award-winning Charburgers, signature sandwiches, fresh salads, and more, is delighted to announce that, in response to overwhelming consumer enthusiasm and demand, their Simple Crafts menu items will be available at participating restaurants across the nation, beginning November 1.
Expertly prepared with the freshest, premium ingredients, the Simple Crafts menu presents the following items—each available at just $5—all crafted to be simply delicious:
Chardog: 100 percent beef hot dog, grilled to perfection and topped with grilled onions
Grilled Cheese: Parmesan crusted sourdough filled with melty cheeses
BLT: On toasted sourdough and filled with crispy bacon, shredded lettuce, and fresh tomatoes
Inspired by the desire to offer consumers a range of products that blend value and top-tier quality, The Habit Burger Grill's innovative Simple Crafts menu came to life. Following a successful trial run at select Southern California locations, it became evident that guests were thrilled with the simple, yet elevated menu options. This nationwide launch is an exciting milestone, exemplifying a tradition of innovation and commitment to quality in every menu item.
"At The Habit Burger Grill, we're renowned for our Charburgers made with fresh ingredients, cooked to order, prepared and served with care," said Jack Hinchliffe, Chief Marketing Officer of The Habit Burger Grill. "We've translated these principles into our Simple Crafts menu, bringing that same commitment to quality and freshness to a menu of simple, everyday favorites."
The Habit Burger Grill was named in Thrillist's list of "Underrated Burger Chains that Need to be in Every State!" With its cooked-to-order mantra, The Habit Burger Grill's open flame sears a distinctive smoky flavor into their famous Charburgers, fresh marinated chicken, and sushi-grade ahi tuna. Guests at The Habit Burger Grill can always count on freshly-made, handcrafted quality served up with genuine hospitality.
Connect with The Habit Burger Grill on social media at facebook.com/habitburgergrill, instagram.com/habitburgergrill, twitter.com/habitburger, tiktok.com/@habitburgergrill, and youtube.com/habittube.
About The Habit Restaurants, Inc.
Born in Santa Barbara, California in 1969, The Habit Burger Grill is a burger-centric, fast-casual restaurant concept that specializes in preparing fresh, cooked-to-order chargrilled burgers and handcrafted sandwiches featuring grilled chicken and sushi-grade ahi tuna cooked over an open flame. In addition, it features fresh handcrafted salads and an appealing selection of sides and shakes. The Habit Burger Grill was featured in Newsweek's "America's Favorite Restaurant Chains 2023;" its Tempura Green Beans was named as the top green bean dish in The Daily Meal's "Ranking Green Bean Dishes From 11 Chain Restaurants" in 2023; and it was named in Thrillist's list of "Underrated Burger Chains that Need to be in Every State!" The Habit Burger Grill has since grown to over 370 restaurants in 14 states throughout Arizona, California, Florida, Idaho, Maryland, Massachusetts, Nevada, New Jersey, North Carolina, Pennsylvania, South Carolina, Utah, Virginia and Washington as well as international restaurants in China and seven in Cambodia. More information is available at www.habitburger.com.
The Habit Burger Grill Press Contact:
[email protected]
A photo accompanying this announcement is available at https://www.globenewswire.com/NewsRoom/AttachmentNg/48a0c3bb-0630-4317-9870-cc7521f18531

Disclaimer: The above press release comes to you under an arrangement with GlobeNewswire. Agrigate Global takes no editorial responsibility for the same.