The Habit Burger Grill Joins Forces with No Kid Hungry to Combat Childhood Food Insecurity
The Habit Burger Grill Joins Forces with No Kid Hungry to Combat Childhood Food Insecurity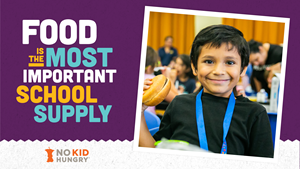 IRVINE, Calif., Aug. 08, 2023 (GLOBE NEWSWIRE) — As the fall season ushers children back to school, The Habit Burger Grill, the California-based restaurant company renowned for its award-winning Charburgers grilled over an open flame, signature sandwiches, fresh salads, and more, takes a bold stand against childhood food insecurity. The company proudly partners with No Kid Hungry, whose mission is to ensure every child receives the healthy nourishment they need to thrive in and outside the classroom every day. This fall, No Kid Hungry is steadfast in its conviction that food is the most important school supply.
Since fostering this invaluable partnership in 2015, The Habit Burger Grill has impressively raised $2.75 million towards ending childhood hunger in the United States, which can help provide 27 million meals* to kids.
"I am deeply proud of our ongoing partnership with No Kid Hungry," says Habit Burger Grill's Chief Marketing Officer Jack Hinchliffe. "It is a cause that resonates with our team because we feel every child deserves the opportunity to thrive without hunger casting a shadow on their potential. By joining hands with No Kid Hungry, we are determined to make a positive impact, ensuring that every child has access to the nourishment they need to grow, learn, and succeed."
Starting August 9, guests at The Habit Burger Grill restaurants nationwide will have the chance to contribute to the cause by rounding up their checks to the nearest whole dollar and donating the difference to No Kid Hungry. In a time when countless children prepare for the new school year, a staggering number struggle to access the sustenance required to learn, concentrate, and flourish.
Understanding Food Insecurity in America
Food-insecure households grapple with inadequate food supply for all residents at some point during the year. These circumstances often lead to children experiencing insufficient meals, while mothers may sacrifice their own nourishment to feed them. The fluctuation in food availability leaves them facing hunger and challenges their overall wellbeing.
Key Facts
1 in 8 children in the United States could encounter hunger.
As many as 9 million kids across the nation are facing food insecurity.
Black and Hispanic households with children endure higher food insecurity rates at 22.7% and 18.0%, respectively, surpassing the national average of 12.5%.
Through this collaboration with No Kid Hungry, The Habit Burger Grill takes a substantial stride towards a world where every child can enjoy nutritious meals and succeed in their education.
"We are thrilled to partner with The Habit Burger Grill for our back-to-school campaign again this year," says Allison Shuffield, Managing Director of Corporate Partnerships at Share Our Strength, the organization behind the No Kid Hungry campaign. "Support from our restaurant partners is essential for helping ensure every kid gets three nutritious meals a day. And this fall, our partnership can make a significant impact in the lives of kids all across the country."
The Habit Burger Grill was named in Thrillist's list of "Underrated Burger Chains that Need to be in Every State!" With its cooked-to-order mantra, The Habit Burger Grill's open flame sears a distinctive smoky flavor into their famous Charburgers, fresh marinated chicken, and sushi-grade ahi tuna.
Connect with The Habit Burger Grill on social media at facebook.com/habitburgergrill, instagram.com/habitburgergrill, twitter.com/habitburger, tiktok.com/@habitburgergrill, and youtube.com/habittube. Visit online at habitburger.com, or download The Habit Mobile App.
About The Habit Restaurants, Inc.
Born in Santa Barbara, California in 1969 and a part of the Yum! Brands family since 2020, The Habit Burger Grill is a burger-centric, fast-casual restaurant concept that specializes in preparing fresh, cooked-to-order chargrilled burgers and handcrafted sandwiches featuring grilled tenderloin steak, grilled chicken and sushi-grade ahi tuna cooked over an open flame. In addition, it features fresh handcrafted salads and an appealing selection of sides and shakes. The Habit Burger Grill was featured in Newsweek's "America's Favorite Restaurant Chains 2023;" its Tempura Green Beans was named the top green bean dish in The Daily Meal's "Ranking Green Bean Dishes From 11 Chain Restaurants" in 2023; and it was named in Thrillist's list of "Underrated Burger Chains that Need to be in Every State!" The Habit Burger Grill has since grown to over 350 restaurants in 14 states throughout Arizona, California, Florida, Idaho, Maryland, Massachusetts, Nevada, New Jersey, North Carolina, Pennsylvania, South Carolina, Utah, Virginia, and Washington, as well as international locations in China and Cambodia. More information is available at www.habitburger.com.
About No Kid Hungry
No child should go hungry in America. But millions of kids in the United States live with hunger. No Kid Hungry is working to end childhood hunger by helping launch and improve programs that give all kids the healthy food they need to thrive. This is a problem we know how to solve. No Kid Hungry is a campaign of Share Our Strength, an organization committed to ending hunger and poverty. More information is available at https://www.nokidhungry.org/.
*Donations help support programs that feed kids; No Kid Hungry does not provide individual meals. Learn more at NoKidHungry.org/OneDollar
The Habit Burger Grill Press Contact: 
[email protected]
A photo accompanying this announcement is available at https://www.globenewswire.com/NewsRoom/AttachmentNg/25270ff6-4f9c-47bd-97bd-b0bfc0979fcb

Disclaimer: The above press release comes to you under an arrangement with GlobeNewswire. Agrigate Global takes no editorial responsibility for the same.