Superfoods Market to Surpass US$ 326.3 Bn by 2032, Driven by Associated Health Benefits | Marketresearch.biz
According to marketresearch.biz, growing healthy eating habits spurs the demand for nutrient-packed superfoods, as people increasingly turn to natural solutions for better well-being. A substantial base of health-conscious consumers and a thriving organic food industry further bolster the superfoods market.
New York, Sept. 18, 2023 (GLOBE NEWSWIRE) — Global Superfoods Market size is expected to be worth around USD 326.3 Bn by 2032 from USD 167.2 Bn in 2022, growing at a CAGR of 7.1% during the forecast period from 2023 to 2032.
Marketresearch.biz announces the publishing of its latest global market report titled, Global Superfoods Market. The market research report provides comprehensive insights into driving factors, restraints, opportunities, and trends, and presents an in-depth outlook with supporting information and figures, tables, charts, illustrations, data, statistics, and actionable insights. The various market scenarios, potential outcomes, viable opportunities, and outcomes are covered extensively in the report, and the data and information formats are simple, yet dynamic so as to ensure ease of reading and understanding, as well as to make for clear presentation and optimization.
The market report has been segmented on the basis of product type, distribution channel, end-user, application, and regions and countries. Each of the segments is further sub-segmented according to items under each category and particular association. The report is extensive and contains historical and estimated revenues, as well as revenues for each segment, region, and country for the forecast period spanning 2023–2032.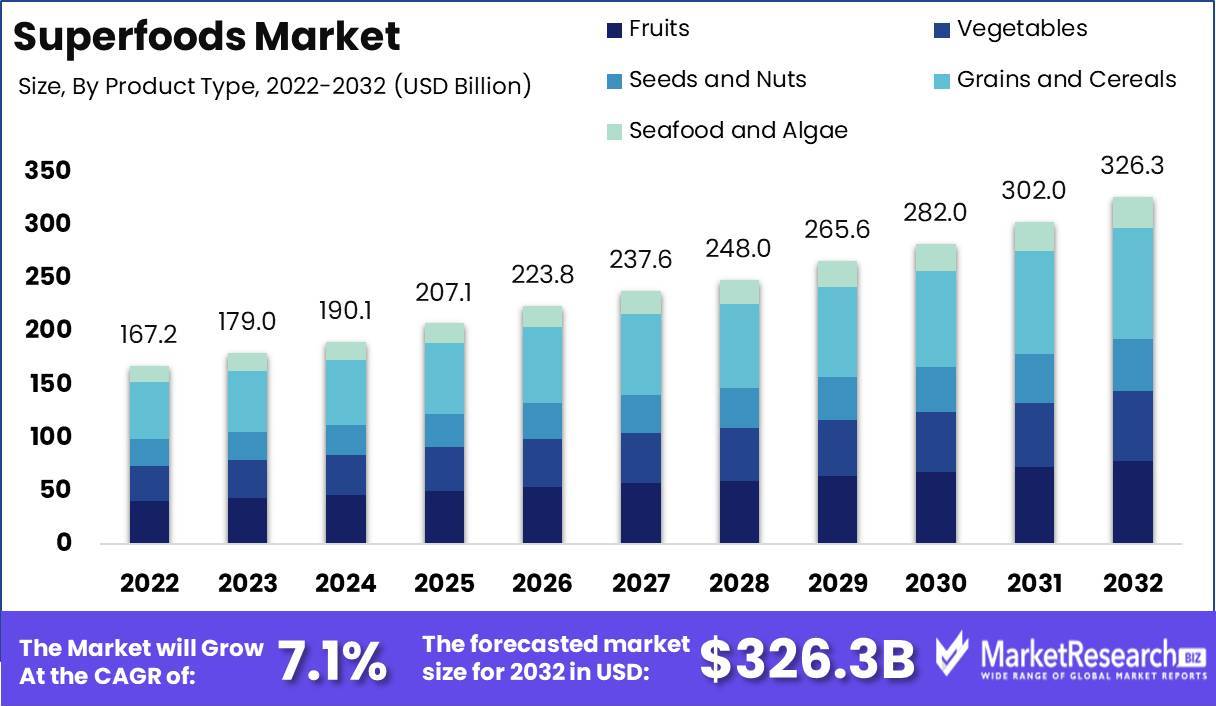 To get additional highlights on major revenue-generating segments, Request a Superfoods Market sample report at: https://marketresearch.biz/report/superfoods-market/request-sample/
Key Takeaways
The fruit segment accounted for a revenue share of approximately 40% of the overall revenue from the product type segments in 2022
The online retail segment accounted for a revenue share of around 30% of the overall revenue from the distribution channel segments in 2022
The individual consumers segment accounted for the largest revenue share of 50% among the end-user segments in the global superfoods market in 2022
North America accounted for 13.05% of the global revenue in 2022 and is expected to maintain its dominance over other regional markets in terms of revenue share during the forecast period.
Powers of Superfoods and Associated Health Benefits Driving Significant Awareness
Superfoods refer to foods that offer maximum nutritional benefits for minimal calories and are known to be packed with vitamins, nutrients, minerals, and antioxidants. The buzzword, among a number of individuals of varying age groups in today's world, is antioxidants and antioxidant molecules. The belief is that antioxidants decrease or reverse the effects of free radicals that have close links with a number of health problems.
Some of the more known diseases and conditions antioxidants have a positive effect on are heart disease, cancer, arthritis, stroke, respiratory diseases, immune deficiency, emphysema, and Parkinson's Disease, among others. Popular among the top 20 superfoods are cereals, chia, quinoa, and amaranth, beans (kidney bean, black bean, and soybean), berries (blueberry, cranberry, strawberry, goji berry, and blackberry), broccoli, Brussels sprouts, cauliflower, fish (salmon, tuna, mackerel, trout, herring, and sardine), leafy greens (spinach, kale, collard greens, and Swiss chard).
These foods are not listed under any standard criteria or have legal definitions to be classified as superfoods currently, but going by the above list, most superfoods are typically plant-based.
To understand how our report can bring a difference to your business strategy, Inquire about a brochure at  https://marketresearch.biz/report/superfoods-market/#inquiry
Health-Conscious Consumers and Vegans Driving Superfood Sales
Global superfoods market revenue growth has been registering a substantial incline and the ongoing surge in demand can be attributed to key factors, including rising health awareness, expanding vegan and vegetarian trends, social media influence, innovative product offerings, expanding sales channels, and government health initiatives. Rising health awareness is driving steady demand for nutrient- and antioxidant-rich superfoods, as individuals constantly seek natural solutions to improve their well-being. The number of individuals shifting towards more healthy diets and food preferences has been supporting the vegan trend globally. Increasing adoption of vegan and vegetarian diets is promoting the consumption of superfoods, and this trend is expected to continue in the future.
E-Commerce Has Transitioned Into Zone of Intense Competition
The proliferation of online (e-commerce) shopping platforms has resulted in superfoods becoming more accessible to a global audience in recent times, and especially after the COVID-19 pandemic and lockdowns when essentials were in short supply and regular brick-and-mortar outlets and general markets were facing supply chain disruptions. This also resulted in an inclining demand for healthy and immunity-building foods and natural ingredient products and also started a major hype in the superfoods market, wherein the competition became intense and companies needed to strategize to stay ahead of rivals and reach their target audiences.
Innovative product offerings is a key strategy that is enabling companies to remain competitive and research and development efforts led to the introduction of new superfood products to attract a broader customer base. Also, evolving dietary preferences and an expanding health-conscious consumer base globally have resulted in superfoods steadily making it into an increasing number of kitchens and households. Superfoods continue to gain mainstream popularity and these key trends are expected to continue over the forecast period and drive revenue growth of the global superfoods market to a significant extent.
Costs and regulations Hamper Availability But Opportunities Open up Revenue Streams
However, relatively higher prices of many superfoods can deter budget-conscious consumers, and as a number of superfoods often come from distant or specialized sources, they are susceptible to supply chain disruptions resulting from unfavorable weather conditions or due to transportation challenges, which can lead to shortages and price fluctuations. In addition, stringent regulations and labeling requirements in various countries can restrain sales of superfoods, particularly if companies fail to comply with related standards. Other major factors that can restrain demand are consumer skepticism due to exaggerated health claims about superfoods, oversaturation of superfoods in the market leading to increased competition, environmental concerns related to deforestation for palm oil, or unsustainable harvesting practices, among others.
Furthermore, the market is also fairly lucrative in terms of potential revenue opportunities, and deploying the proper strategies can enable creating and leveraging new revenue streams. Continuously innovation, maintaining transparency, and aligning strategies with evolving consumer trends can enable companies to maximize revenue streams and capitalize on the growing demand for healthy and nutrient-rich foods.
Make informed business decisions with our sample report, revealing key market insights Click Here To Download/Request a Sample
Report Scope
| | |
| --- | --- |
| Report Attribute | Details |
| Market Value (2022) | US$ 167.2 Bn |
| Market Size (2032) | US$ 326.3 Bn |
| CAGR (from 2023 to 2032) | 7.1% |
| North America Revenue Share | 13.05% |
| Historic Period | 2016 to 2022 |
| Base Year | 2022 |
| Forecast Year | 2023 to 2032 |
North America Dominates Other Regional Markets and Trend Will Continue
North America has an existing and well-established health and wellness culture, with consumers increasingly seeking nutrient-dense and health-boosting superfoods and exploring new and more natural food options. The robust agricultural sector and diverse climate also allow for the cultivation of a wide range of superfood ingredients. Also, consumer awareness and education campaigns contribute to the popularity of healthy foods, as well as superfoods in some countries in the region. In addition, the presence of a large consumer base of health-conscious individuals and a flourishing natural and organic food industry further supports the traction of superfoods in the market in the region.
Maximize your profitability with MarketResearch.Biz – Gain a competitive edge by acquiring this premium report at https://marketresearch.biz/purchase-report/?report_id=8783
Competitive Landscape Heats Up as Companies Focus on Global Reach
The global superfoods market is getting increasingly competitive and various companies are emphasizing brand differentiation, with a strong focus on product quality, health benefits, and sustainability. Continuous innovation is a key driver, as firms invest in R&D to identify new superfoods, refine extraction methods, and create innovative superfood-based products. Certifications such as organic, non-GMO, fair-trade, and sustainability labels play a major role in building consumer trust. Companies are focused on geographical expansion strategies, with target regions being Europe, Asia-Pacific, and North America owing to a large health-conscious consumer base.
Key Market Players
Nestlé
ADM
PepsiCo
Aloha
Amazing Grass
APAX Partners
Archer Daniels Midland Company
Barlean's Organic Oils LLC
Bulk Superfoods
Creative Nature
Del Monte Pacific Group
Four Sigmatic
General Mills
Green Foods Corporation
Hain Celestial Group
Health Warrior
Kilaru Naturals Private Limited
Others
Segments Covered in the Report
Product Type
Fruits
Vegetables
Seeds and Nuts
Grains and Cereals
Seafood and Algae
By Application
Bakery & Confectionery
Snacks
Beverages
Other Applications
Distribution Channel
Supermarkets and Hypermarkets
Online Retail
Specialty Stores
Convenience Stores
Direct Sales

Farmers' Markets
Subscription Services
End-User
Individual Consumers
Food and Beverage Industry
Dietary Supplement Industry
Cosmetics and Personal Care Industry
Foodservice Providers
By Geography:
North America
Europe
Asia-Pacific
Latin America
Middle East and Africa
Uncover valuable statistics and future projections by accessing a sample report for historical and forecast market data spanning 2016 to 2032 at https://marketresearch.biz/report/superfoods-market/request-sample/
Convenience Tops List To Expand Consumer Base and Drive Revenues
Intense competition is resulting in the formulation of new products such as superfood-infused beverages like juices and smoothies, as well as ready-to-eat meals and snacks incorporating nutrient-rich ingredients. Also, companies are introducing superfood blends and powders that can be easily incorporated into everyday recipes and diets, thereby enhancing convenience for consumers. Novel superfood-based dietary supplements, such as capsules and powders, target health-conscious consumers looking for convenient ways to incorporate superfoods into their routines. These product innovations not only cater to evolving consumer preferences but also highlight the versatility and adaptability of superfoods in various forms, as well as enable companies to stay ahead of the competition.
In May 2023, Pairwise, which is a pioneering food startup, announced the launch of its inaugural product, Conscious Greens, under its Conscious Foods brand. The product is the first food introduced in the U.S. that was developed with CRISPR technology. Conscious Greens Purple Power Baby Greens Blend, which will be co-branded with Performance Food Group's Peak Fresh Produce brand, is a mix of colorful Superfood leafy greens.
In November 2022, Conscious Food further expanded its legacy by launching a brand new range of nutritious and wholesome superfood products for kids and introduced 'Superfoods for Superheroes' – unadulterated pre-mixes that make food for kids. The new superfood range is for children aged between 2 and 6 years and is produced in a way that maintains nutrition naturally found in composite grains.
In June 2021, Purely Inspired, which is a premium brand focused on producing high-quality, nutritious products announced that it would offer Superfood Greens, Healthy Beets+ Superfood Powder, Superfood Reds, and Healthy Beets Superfood Capsules as part of its new superfood product line. The Purely Inspired Superfoods lineup has been designed for consumers with hectic lifestyles, but seeking a healthy lifestyle.
Browse More Related Reports
Snack Bars Market size is expected to be worth around USD 41.7 Bn by 2032 from USD 29.0 Bn in 2022, growing at a CAGR of 3.8% during the forecast period from 2023 to 2032.
Healthy Snacks Market size is expected to be worth around USD 58.6 Bn by 2032 from USD 35.7 Bn in 2022, growing at a CAGR of 5.2% during the forecast period from 2023 to 2032.
Jam, jelly, and preserves market size is expected to be worth around USD 2.9 Bn by 2032 from USD 1.7 Bn in 2022, growing at a CAGR of 5.5% during the forecast period from 2023 to 2032.
Spreads Market size is expected to be worth around USD 129.2 Bn by 2032 from USD 66.8 Bn in 2022, growing at a CAGR of 7.0% during the forecast period from 2023 to 2032.
Chia Seeds Market size is expected to be worth around USD 6.0 Bn by 2032 from USD 2.8 Bn in 2022, growing at a CAGR of 8.2% during the forecast period from 2023 to 2032.
About Us:
MarketResearch.Biz (Powered by Prudour Pvt Ltd) specializes in in-depth market research and analysis and has been proving its mettle as a consulting and customized market research company, apart from being a much sought-after syndicated market research report-providing firm. MarketResearch.Biz provides customization to suit any specific or unique requirement and tailor-made reports as per request. We go beyond boundaries to take analytics, analysis, study, and outlook to newer heights and broader horizons.
Follow Us on LinkedIn: https://www.linkedin.com/company/marketresearch-biz/
Follow Us on Facebook: https://www.facebook.com/marketresearch.biz
Follow Us on Twitter: https://twitter.com/PrudourResearch
CONTACT: Global Business Development Team – MarketResearch.biz MarketResearch.biz (Powered By Prudour Pvt. Ltd.) Email: [email protected] Address: 420 Lexington Avenue, Suite 300, New York City, NY 10170, United States Tel: +1 347 796 4335 Website: https://marketresearch.biz/

Disclaimer: The above press release comes to you under an arrangement with GlobeNewswire. Agrigate Global takes no editorial responsibility for the same.