Polylactic Acid Market revenue to reach USD 12 Billion by 2035, says Research Nester
Prominent polylactic acid market players include NatureWorks LLC, BASF SE, Futerro, Total Corbion PLA, and Corbion NV.
New York, Aug. 09, 2023 (GLOBE NEWSWIRE) — The global polylactic acid market size is expected to expand at ~15.20% CAGR from 2023 to 2035. The market is anticipated to garner a revenue of USD 12 billion by the end of 2035, up from a revenue of ~USD 2 billion in the year 2022.The growth of the market is mainly attributed to the global expansion of the chemical industry. For example, India's chemical industry generated almost USD 170 billion in 2019 and is projected to grow to about USD 300 billion by 2025. This is due to sustainable materials and a growing awareness of the environmental impact of traditional raw materials, plastics. Furthermore, the global polylactic acid market is expected to be further driven by the increasing use of ethylamine by the end-use industries, the increasing number of agricultural productions worldwide, and the growing demand for electric and non-electric vehicles. in the forecast period.
Request Free Sample Copy of this Report @ https://www.researchnester.com/sample-request-4799
Furthermore, the rising rate of industrial production worldwide is expected to fuel the growth of the global polylactic acid market during the forecast period. However, the market faces challenges such as the high cost of production compared to traditional plastics and the lack of infrastructure for the collection and processing of biodegradable plastics. To overcome these challenges, companies are focusing on developing cost-effective production methods and investing in the development of recycling technologies for bioplastics.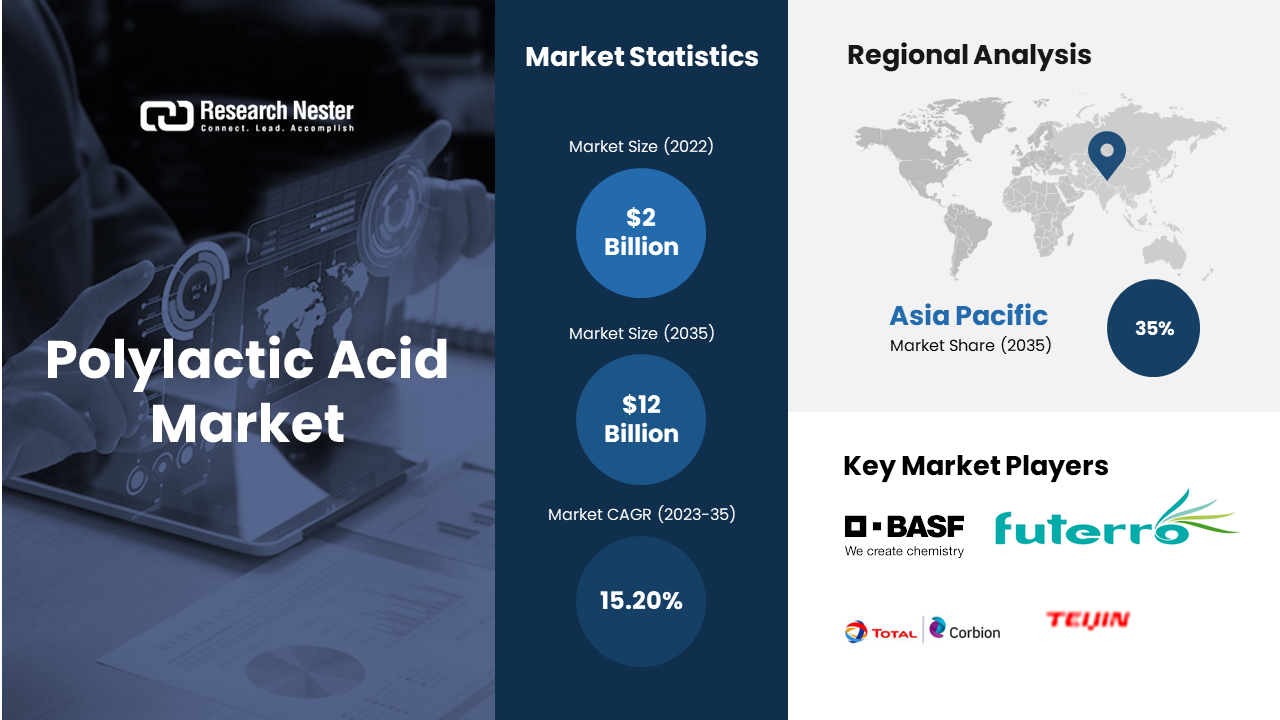 Polylactic Acid Market: Key Takeaways
Market in Asia Pacific to propel highest growth
The automotive segment to garner the highest growth
Market in North America to grow at a highest rate
Increasing awareness of the environmental impact across the Globe to Boost Market Growth
Growing awareness of the environmental impact of traditional plastics and the need for sustainable materials is driving demand for PLA. According to the survey, nearly 81% of consumers strongly believe that businesses should help improve the environment. This demand for sustainability is driving the adoption of biodegradable and renewable plastics like PLA. Governments around the world are taking steps to encourage the use of sustainable materials. For example, in the European Union set a target that by the year 2030 all plastic packaging should be recyclable or reusable. Likewise, the Indian government has banned single-use plastics and is promoting the use of biodegradable plastics. Such initiatives stimulate demand for APL.
The packaging industry is a major end user of PLA and the growing demand for sustainable packaging solutions is driving the growth of the PLA market. According to the report, the biodegradable packaging industry is projected to grow to nearly USD 22 billion by 2025. PLA is increasingly used in hybrid and electric vehicles. It has been observed that there are nearly 13,34,000 electric vehicles in circulation in India compared to about 27,80,50,000 non-electric vehicles.
Polylactic Acid Market: Regional Overview
The market is segmented into five major regions including North America, Europe, Asia Pacific, Latin America, and the Middle East and Africa region.
Expanding vehicle production to Drive the Market Growth in Asia Pacific Region
The polylactic acid market in Asia Pacific region is estimated to garner the largest revenue by the end of 2035. Regional growth is largely due to increasing demand for vehicles, which has resulted in increased vehicle production and sales in the region. Statistics from International Automobile Manufacturers (OICA) show that total vehicle production in the region increased to 46 million in 2020 from 44 million in 2020. In addition, the growing production of electric vehicles in the Asia-Pacific region and their increasing preference is another growth driver for the expansion of the market. For example, the International Energy Agency announced that China will be the largest EV manufacturer in 2020, with around 1.3 million EVs registered. In addition, the presence of several major EV manufacturers in the region and the increasing development of better interior designs that require PLA in EVs are expected to drive the development of the regional market.
Continuous research and development efforts have led to technological advancements in PLA production, making it more cost-effective and competitive compared to other bio-based polymers. The growth of industries such as packaging, textiles, automotive, and electronics in the Asia Pacific region has fueled the demand for PLA. Consumers in the Asia Pacific region are increasingly adopting eco-friendly products and are willing to pay a premium for sustainable options. This has positively impacted the demand for PLA-based products.
Request Free Sample Copy of this Report @ https://www.researchnester.com/sample-request-4799
Growing adoption of PLA to Propel the Growth in the North America Region
The North America polylactic acid market is estimated to garner the highest CAGR by the end of 2035. Consumers in North America are increasingly inclined towards eco-friendly products and are willing to pay a premium for sustainable options, including PLA-based products. A survey conducted in 2020 revealed that 83% of North American consumers prefer products that are environmentally sustainable and socially responsible. The growing adoption of PLA can be attributed to its usage in various industries such as packaging, textiles, automotive, and electronics in North America.
The market is projected to witness significant growth in the packaging industry, primarily driven by sustainable packaging solutions. Cost Competitiveness: Advances in PLA manufacturing technology have led to increased production efficiency and cost competitiveness, further driving its market growth in North America. The cost of PLA production has decreased over time, making it more attractive as a viable alternative to traditional plastics. This cost reduction is due to improved production processes and economies of scale.
Polylactic Acid, Segmentation by End User
Packaging
Agriculture
Automotive
Electronics
Textiles
Others
Amongst these segments, the automotive segment in polylactic acid market is anticipated to hold the largest share over the forecast period. The development of this segment is due to the increasing production rate of electric vehicles worldwide and the growing awareness of the world population about the negative impact of exhaust emissions on human health and the environment. This is supported by the expected strong demand.
The International Energy Agency reported that EV sales in 2021 exceeded those in 2020, nearly doubling to 6.6 million. Polylactic acid (PLA) is a biodegradable and renewable thermoplastic with potential uses in the automotive industry. PLA can be used to make interior and exterior parts of vehicles, as well as in automotive fabrics. One of the main benefits of using PLA in automotive parts is its light weight compared to traditional materials like metal and glass. This can result in fuel savings and a reduction in CO2 emissions. In addition, PLA has high dimensional stability and is therefore suitable for use in precision parts. PLA can also be easily formed into various shapes and sizes, making it a versatile material for automotive applications.
Purchase Copy of this Report @ https://www.researchnester.com/purchage/purchase_product.php?token=4799
Polylactic Acid, Segmentation by Grade
Thermoforming
Extrusion
Injection Molding
Amongst these three segments, the injection molding segment in polylactic acid market is anticipated to hold a significant share over the forecast period. The injection molding process is widely utilized in various end-use industries, including automotive, packaging, consumer goods, healthcare, and electronics. The growth of these industries drives the demand for injection molding. The development of new materials and composites suitable for injection molding has expanded the range of applications and boosted the growth of the segment. For instance, the increasing adoption of engineering plastics, such as polycarbonate (PC), polyamide (PA), and polypropylene (PP), in various industries has contributed to the growth of the injection molding market.
Continuous advancements in injection molding technology, such as automation, multi-material and multi-color capabilities, and precision molding, have increased efficiency and expanded the application possibilities. The integration of technologies like robotics, IoT, and machine learning in injection molding processes has improved productivity and reduced cycle times. Industries like automotive and aerospace demand lightweight components with complex geometries, which can be efficiently manufactured through injection molding. The injection molding industry has been embracing sustainability by focusing on recycling, use of bio-based materials, and energy-efficient processes, aligning with environmental regulations and market demands.
Few of the well-known market leaders in the polylactic acid market that are profiled by Research Nester are NatureWorks LLC, BASF SE, Futerro, Total Corbion PLA, Corbion NV, and other key market players.
Recent Development in the Market
NatureWorks has announced plans to ramp up production of Ingeo PLA biomaterial at its manufacturing facility in Thailand. The company plans to double the production capacity of its Ingeo biopolymer by 2022 to meet the growing demand for sustainable materials.
Corbion has announced the acquisition of the lactic acid business of Bunge Limited, a leading food and beverage company. The acquisition will help Corbion expand its product portfolio and strengthen its position in the bioplastics market.
About Research Nester
Research Nester is a one-stop service provider with a client base in more than 50 countries, leading in strategic market research and consulting with an unbiased and unparalleled approach towards helping global industrial players, conglomerates and executives for their future investment while avoiding forthcoming uncertainties. With an out-of-the-box mindset to produce statistical and analytical market research reports, we provide strategic consulting so that our clients can make wise business decisions with clarity while strategizing and planning for their forthcoming needs and succeed in achieving their future endeavors. We believe every business can expand to its new horizon, provided a right guidance at a right time is available through strategic minds.
CONTACT: AJ Daniel Corporate Sales, USA Research Nester Email: [email protected] USA Phone: +1 646 586 9123 Europe Phone: +44 203 608 5919

Disclaimer: The above press release comes to you under an arrangement with GlobeNewswire. Agrigate Global takes no editorial responsibility for the same.