Polyglycolic Acid Market revenue to reach USD 9 Billion by 2035, says Research Nester
Prominent polyglycolic acid market players include Kureha Corporation, Corbion NV, Shenzhen Polymtek, Biomaterial Co. Ltd., BMG Incorporated, HuizhoForyou Medical Devices Co., Ltd., Teleflex Incorporated, DuPont de Nemours, Inc., Foster Group, Inc., Samyang Holdings Biopharma Group, and Ethicon Inc.
New York, Oct. 19, 2023 (GLOBE NEWSWIRE) — The global polyglycolic acid market size is predicted to grow at a CAGR of over ~10% from 2023 to 2035. The market is projected to garner a revenue of USD 9 billion by the end of 2035, up from a revenue of ~USD 4 billion in the year 2022.This growth of the market is set to be encouraged by growing consumption of plastics. However, with the surge in consumption of plastic the threat to environment is also surging. Over 349 million metric tons of plastic trash are presently produced annually by humans. Global plastic trash output is anticipated to triple by 2060, reaching a startling one billion metric tons, if existing policies remain unchanged. Hence, the demand for polyglycolic acid is rising.
Request Free Sample Copy of this Report @ https://www.researchnester.com/sample-request-4958
Due to the mounting environmental strain on climate change and waste plastic, bio-plastics have drawn a lot of attention. Nearly 72 million tons of CO2 might be avoided if the yearly worldwide demand for polyethylene (PE) derived from fossil fuels were to be supplanted by biobased PE. This is equivalent to the annual CO2 emissions from about 19 million grounded flights worldwide. Hence, bio-plastic is in high is demand. One of them, polyglycolic acid, can be both bio-based and biodegradable and has been extensively employed in numerous applications involving throwaway packaging. Most recent research incorporates PGA with other degradable polymers as a filler ingredient. Moreover, as compared to any other bio PE, polyglycolic acid carries a huge potential to degrade quickly in nature, which is why they are high in demand.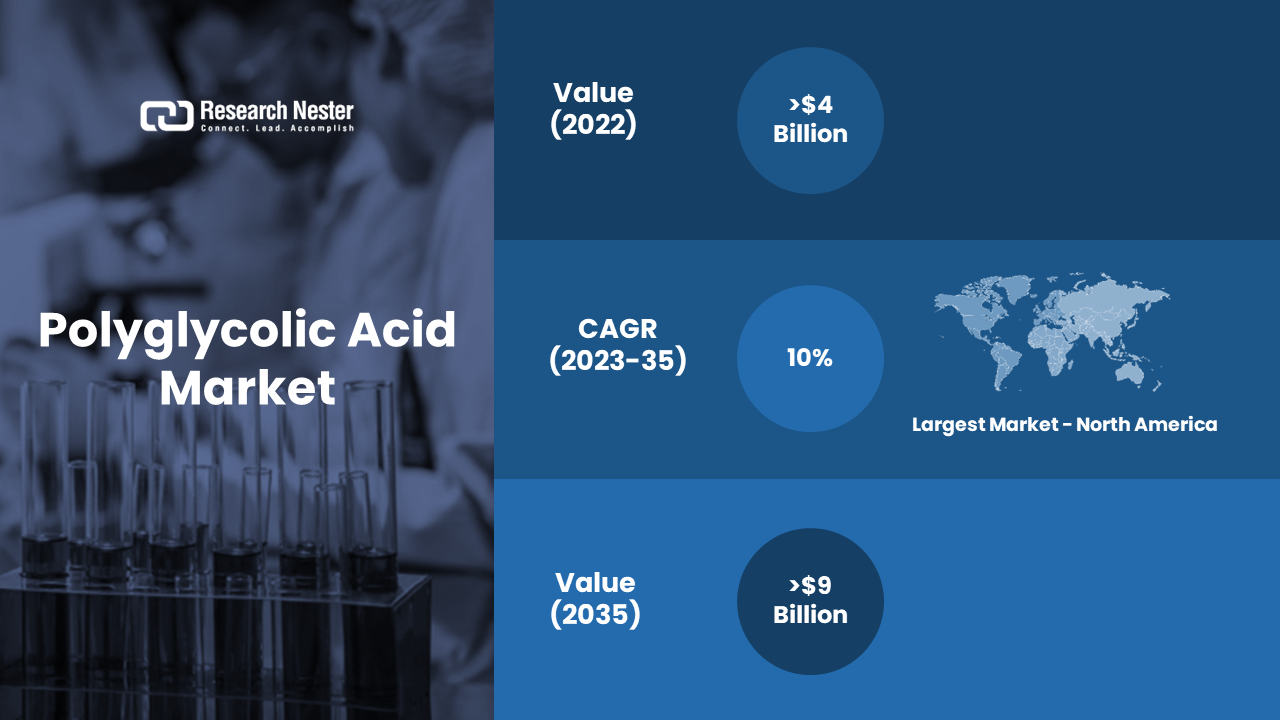 Growing Government Initiatives for the Use of Bio-Plastic to Boost the Growth of Global Polyglycolic Acid
Several government rules that limit the consumption of conventional plastics and promote the use of biodegradable polymers have recently been published. For instance, by 2022, the Government of India has advised the Plastic Waste Management Amendment Rules, 2021, that outlaws designated single-use plastic items with poor usefulness and high littering potential. Hence, with this the utilization of polyglycolic acid is projected to grow.
Polyglycolic Acid Market: Regional Overview 
The market is segmented into five major regions including North America, Europe, Asia Pacific, Latin America, and the Middle East and Africa region. 
Surge in Prevalence of Cardiac Surgery to Drive the Market Growth in North America
The polyglycolic acid market in North America is projected to capture highest share of about 37% over the projected period. The growth of this region's market is estimated to grow owing to rising prevalence of cardia surgery. About 805,000 Americans experience a heart attack each year. Hence, the need for cardiac surgery is growing further encouraging the market revenue.
Make an Inquiry Before Buying this Report @ https://www.researchnester.com/inquiries-before-buying-4958
Surge in Number of Road Accidents to Influence the Market Expansion in Asia Pacific
The Asia Pacific market for polyglycolic acid is poised to generate the notable share of about 26% over the projected period. The major factors driving the growth of the market in this region is growing road accidents. In India, there are over 2 lakh traffic fatalities per year. Moreover, about 46 accidents and approximately 17 fatalities each hour, or close to 1139 accidents and over 421 fatalities are caused per day in India. As a consequence, the need for surgery is growing in this region.
Polyglycolic Acid, Segmentation by End User
Medical
Oil & Gas
Packaging
Agriculture
The medical segment is slated to capture the highest market share of about 40% over the coming years. The growth of this segment could be encouraged by growth in number of plastic surgeries. For instance, over 14 million cosmetic surgery treatments are performed annually in the US by professionals.
Polyglycolic Acid, Segmentation by Form
The fibers segment is expected to capture highest share of 60% over the forecast period. This growth in segment could be owing to growing demand for automotive. Around 65 million vehicles were sold globally in 2021, however the number increased to 66 million vehicles sold globally in 2022. Polyglycolic acid fibers is expected to excellent choice to be used in manufacturing various automotive components.
Request for Customization of this Report @ https://www.researchnester.com/customized-reports-4958
A few of the well-known industry leaders in polyglycolic acid market that are profiled by Research Nester are Kureha Corporation, Corbion NV, Shenzhen Polymtek, Biomaterial Co. Ltd., BMG Incorporated, HuizhoForyou Medical Devices Co., Ltd., Teleflex Incorporated, DuPont de Nemours, Inc., Foster Group, Inc., Samyang Holdings Biopharma Group, Ethicon Inc.
Recent Development in the Polyglycolic Acid Market 
The Johnson & Johnson Medical Devices Company subsidiary Ethicon Inc. stated that it had received clearance from NICE Medical Technologies Guidelines to become the first-ever sutures with antibacterial protection that can be used in the National Health Service.
With the Titan SGS® Powered Stapling Device, Teleflex Incorporated and W.L. Gore & Associates, Inc. have come to an agreement to use Gore's GORE SEAMGUARD Bioabsorbable Staple Line Reinforcement material in a Teleflex-designed staple line reinforcement device.
About Research Nester
Research Nester is a one-stop service provider with a client base in more than 50 countries, leading in strategic market research and consulting with an unbiased and unparalleled approach towards helping global industrial players, conglomerates and executives for their future investment while avoiding forthcoming uncertainties. With an out-of-the-box mindset to produce statistical and analytical market research reports, we provide strategic consulting so that our clients can make wise business decisions with clarity while strategizing and planning for their forthcoming needs and succeed in achieving their future endeavors. We believe every business can expand to its new horizon, provided a right guidance at a right time is available through strategic minds.
CONTACT: AJ Daniel Corporate Sales, USA Research Nester Email: [email protected] USA Phone: +1 646 586 9123 Europe Phone: +44 203 608 5919

Disclaimer: The above press release comes to you under an arrangement with GlobeNewswire. Agrigate Global takes no editorial responsibility for the same.