Plant Forward 2024 early bird pricing and registration now open
Conference returns to Toronto, Canada April 16-18, 2024
Plant Forward registration open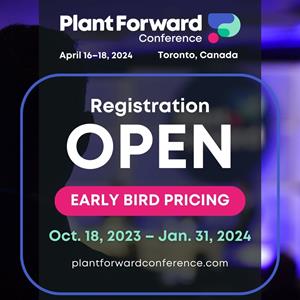 Plant Forward program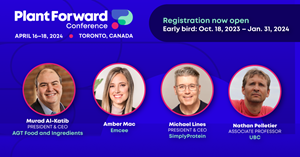 Toronto, Ont., Oct. 18, 2023 (GLOBE NEWSWIRE) — Protein Industries Canada, Pulse Canada and Plant-Based Foods of Canada are excited to announce that registration for Plant Forward is now open with early bird pricing available from Oct. 18, 2023 to Jan. 31, 2024. Plant Forward, Canada's premier plant-based food and ingredient conference, is returning for another year with more insights into the future of the global plant protein sector, more industry leaders and experts, and more opportunities to make meaningful connections with key stakeholders. The event will take place at The Westin Harbour Castle hotel in Toronto on Apr. 16 to 18, 2024.
Canadian and international companies are invited to join industry leaders from across the global value chain at Plant Forward with the goal of accelerating the innovation and adoption of plant-based foods.
"Canada is emerging as a global leader in the plant-based food, feed and ingredient sector," Protein Industries Canada CEO Bill Greuel said. "The inaugural Plant Forward displayed Canada's commitment to innovation and strengths as a reliable supplier of plant-based ingredients, while gathering one of the most concentrated groups of leading decision-makers in one room, including more than 250 delegates from 11 countries. Canada is excited to continue the conversation with our international counterparts on how the country can be a choice partner in meeting the growing global population's demand for plant protein."
With more speakers still to come, Plant Forward is excited to announce Murad Al-Katib, President and CEO of AGT Food and Ingredients as a confirmed keynote, Amber Mac as the conference emcee, and Michael Lines, President and CEO of SimplyProtein, and Nathan Pelletier, Associate Professor at the University of British Columbia, as part of the program. With a focus on the themes of sustainability, R&D, innovation, attracting capital and consumer trends, the agenda will include engaging keynotes, interactive panels and more to spark animated discussion and insights on the evolution of the global food system.
"Canada's pulse growers, processors and exporters have established Canada as a global leader in protein through their collective ingenuity and innovation," said Greg Cherewyk, President of Pulse Canada. "Plant Forward is an exclusive forum for leaders from around the world to learn from our experience, share in our expertise, and get to see first-hand why Canada is uniquely situated to drive this growing sector forward."
"The Plant Forward international conference highlighted the importance of fostering valuable connections, inspiring meaningful partnerships, and encouraging conversation between key players to create a sustainable and equitable global food system," Leslie Ewing, Executive Director of Plant-Based Foods of Canada said. "As consumers' preferences continue to evolve, Canada is uniquely positioned to leverage its strengths and collaborate on the plant-based innovations that can shift our food systems and create options that meet consumer needs."
The inaugural conference, which was held in the Fall of 2022, showcased global leaders in the plant-based food space such as Suzy Amis Cameron, Dan Magliocco and Adam Grogan. The conference also highlighted the importance of collaboration among ecosystem players, emphasized the role plant-based food can play, and showcased Canada as a hub in which to ignite partnerships to advance innovation in the plant protein sector.
To view more information on Plant Forward including the agenda, registration and last conference's highlights, please visit plantforwardconference.com. 
Attachments
Plant Forward registration open
Plant Forward program
CONTACT: Celeen George Protein Industries Canada 204-295-7925 [email protected] Areeg El-Sayed Plant-Based Foods of Canada 416-580-0589 [email protected] Jeff English Pulse Canada 204-925-3787 [email protected] 

Disclaimer: The above press release comes to you under an arrangement with GlobeNewswire. Agrigate Global takes no editorial responsibility for the same.