NURTURING ROOTS: HERR'S CELEBRATES SMALL BUSINESS FLAVORS AS PHILLY'S NEXT CHIP CONTEST RETURNS
Calling All Philly Foodies: Share Your Beloved Local Flavors in the Flavored by Philly Contest
Herr's Flavored by Philly contest seeks beloved local flavors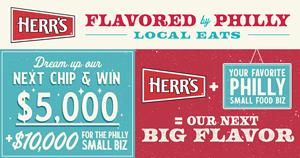 Nottingham, PA, Oct. 24, 2023 (GLOBE NEWSWIRE) — Back by popular demand, Pennsylvania's beloved snack maker, Herr Foods Inc., is happy to announce the return of the third annual Flavored by Philly contest. This competition asks enthusiastic and inventive Philadelphians to take the spotlight and influence the direction of snacking once more.
Building on the resounding success of year two of the contest, Herr's is once again putting the focus on the local small businesses that infuse Philadelphia with its distinctive culinary character through the Flavored by Philly Local Eats contest. To date, this contest has demonstrated the great devotion Philadelphians have for their regional gems and Herr's support to nurture a small business ecosystem and delivery of innovative flavors. 
Through this contest Chip fans are not just consumers; they're co-creators. They have the extraordinary opportunity to pay homage to their favorite local small businesses by suggesting a chip flavor inspired by these beloved culinary heroes. It's a delicious way to celebrate the flavors that make the Philadelphian food scene truly exceptional.
Starting today and running through November 14, Herr's fans can submit their most compelling chip flavor ideas, inspired by Philadelphia area small food businesses, for a chance to win a grand prize of $5,000 and a year's supply of Herr's chips. Even more exciting, the nominated small business behind the winning flavor will receive a $10,000 prize. While small business owners are welcome to nominate their flavor ideas, they'll be eligible for the $10,000 prize only if their flavor concept takes the top spot.
Once the flavor contest entry period concludes, a panel of judges will review the submissions. From there, they'll select three small business flavor finalists for the people of Philadelphia to enjoy in early summer 2024. Fans will then have the delectable opportunity to sample all three flavors and cast their votes to crown the winning chip flavor inspired by a Philadelphia small business food company or local restaurant.
The second year of the contest was a testament to Herr's dedication to small business as three incredible flavor finalists were revealed, each submitted by passionate fans. These finalists included Corropolese Italian Bakery & Deli's Tomato Pie (Norristown), John's Roast Pork's Roast Pork Sandwich, and Mike's BBQ's Korean BBQ Wings – all hailing from the vibrant streets of the Philadelphia area.
"From our humble beginnings as a small family business in 1946 to becoming a top chip brand in Philadelphia, Herr's has always been deeply rooted in this community", said the chairman and CEO of Herr's, Ed Herr. As we launch the third Flavored by Philly contest, we are proud to support and honor the local small food businesses that began the way our family's company began. Of course, we are also excited to bring three small business flavors to life this summer so the people of Philadelphia can continue to enjoy tasty snacks, made just for them, after a hard day's work."
The Flavored by Philly contest celebrates Philadelphia's distinctive flavors, supports community-based businesses, and fosters the development of snack-time memories that genuinely capture the essence of the City of Brotherly Love with each passing year. 
To nominate a chip flavor inspired by a Philadelphia area small business food company or local restaurant, visit campaign.rtm.com/flavoredbyphilly/.
*Flavored By Philly Local Eats Contest: NO PURCHASE NECESSARY. A PURCHASE WILL NOT INCREASE YOUR CHANCES OF WINNING. The Contest is open only to legal residents of Pennsylvania, New Jersey, Delaware, and Maryland, who are 18 years of age or older at the time of Promotion registration. The Sweepstakes is open only to legal residents of the fifty (50) United States and D.C., who are 18 or older at the time of voting—void elsewhere and where prohibited. The Contest Entry Period runs 10/24/23 at 9 a.m. ET – 11/14/23 at 11:59 p.m. ET. Public Vote Period will run from 6/11/24 – 8/9/24. For Official Rules, prize descriptions, odds disclosure, and full details, visit https://campaign.rtm.com/flavoredbyphilly/. Sponsor: Herr Foods Inc. (Herr's), 20 Herr Drive, Nottingham, PA 19362
For more information about Herr's and their variety of flavors visit herrs.com. Follow Herr's on Facebook, Twitter, and Instagram to receive announcements on all the exciting new flavors and more.
###
About Herr's
Made from the finest ingredients available and always bursting with flavor, Herr's snacks have been giving people something to smile about since 1946, when Jim Herr started his own snack company. Based in Nottingham, Pennsylvania, where visitors are welcomed to its Visitor Center and Snack Factory, Herr's produces more than 300 snack products in nine product categories and continues to be family-owned and operated. www.herrs.com 
Attachment
Herr's Flavored by Philly contest seeks beloved local flavors
CONTACT: Nicole Fenner quench 917-607-8905 [email protected] 

Disclaimer: The above press release comes to you under an arrangement with GlobeNewswire. Agrigate Global takes no editorial responsibility for the same.