North America Spearheads Global Sustainable Farming Market Thanks to Profitable Practices
Global Sustainable Farming Market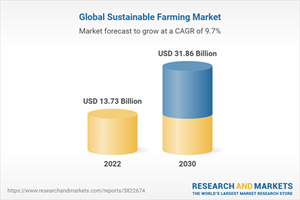 Dublin, Sept. 15, 2023 (GLOBE NEWSWIRE) — The "Sustainable Farming Market: Global Industry Analysis, Trends, Size, Share and Forecasts to 2030" report has been added to ResearchAndMarkets.com's offering.
The global sustainable farming market, valued at USD 13.73 billion in 2022, is projected to reach USD 31.86 billion by 2030, with a Compound Annual Growth Rate (CAGR) of 9.74% during the forecast period from 2023 to 2030.
This report provides a comprehensive analysis of the sustainable farming market, with a focus on key geographical regions, including North America, Europe, Asia Pacific, and the Rest of the World (RoW), for the period of 2021 to 2030.
Sustainable farming systems aim to ensure the profitability of farms while positively influencing local economies and prioritizing the efficient use of non-renewable resources. These systems offer significant benefits compared to conventional farming methods, such as cultivating fertile soils, safeguarding water supplies, storing carbon, reducing greenhouse gas emissions, and enhancing resilience against extreme weather events.
Factors driving the adoption of sustainable farming practices include improved access to information through the internet and smartphones, growing awareness among farmers, and streamlined food distribution. However, the high initial cost of sustainable farming methods can be a potential restraint, particularly in developing countries.
Segmentation: Type
The global sustainable farming market is segmented by type, with precision farming playing a significant role in driving growth. Precision farming, also known as precision agriculture, involves the use of advanced technologies and data analytics to optimize agricultural practices. Technologies like GPS, sensors, drones, and satellite imagery allow for precise management of inputs such as water, fertilizers, and pesticides, resulting in resource efficiency and environmental benefits.
Precision farming aligns with sustainable farming principles by reducing resource overuse, preventing soil erosion, minimizing pollution, and promoting crop health and yield. It supports data-driven decision-making, enabling farmers to optimize resource allocation, monitor crops, detect pests or diseases early, and implement precise harvesting strategies.
As demand for sustainable farming practices grows, precision farming is expected to play a significant role in transforming the agricultural industry, making it a key driver in the sustainable farming market's growth.
Geographical Dominance
North America is expected to maintain a significant market share in the sustainable farming market due to the profitability of its agricultural sector, particularly in the USA. The region's financial strength allows for substantial investments in sustainable agriculture practices on a large scale. Additionally, North America has seen increased availability of precision agriculture and sustainable cropping solutions, further contributing to its dominance in the sustainable farming industry.
Market Dynamics
Drivers:
Benefits associated with sustainable farming.
Growing awareness of sustainable farming methods.
Restraints:
High cost associated with sustainable farming methods and solutions.
Opportunities:
Technological advancements in precision agriculture.
Segments Covered
The global sustainable farming market is segmented by type into the following categories:
Organic Farming
Precision Farming
Others
Company Profiles
The report includes profiles of key companies operating in the global sustainable farming market, such as Vestaron Corporation, Biorfarm Srl, Indigo Ag, Inc., Provivi, Agrifac Machinery B.V., Bayer AG, AgSmart, DICKEY-john, CROPMETRICS, and Soft Robotics Inc.
What Does This Report Deliver?
Comprehensive analysis of the global and regional sustainable farming markets.
Coverage of all segments within the market to analyze trends, developments, and forecasts up to 2030.
Detailed analysis of companies in the market, including product portfolios, revenue, SWOT analysis, and recent developments.
The Growth Matrix provides insights into product segments and geographies for market players to consider for investment, consolidation, expansion, or diversification.
Key Attributes:
| | |
| --- | --- |
| Report Attribute | Details |
| No. of Pages | 100 |
| Forecast Period | 2022 – 2030 |
| Estimated Market Value (USD) in 2022 | $13.73 Billion |
| Forecasted Market Value (USD) by 2030 | $31.86 Billion |
| Compound Annual Growth Rate | 9.7% |
| Regions Covered | Global |
For more information about this report visit https://www.researchandmarkets.com/r/isqqd4
About ResearchAndMarkets.com
ResearchAndMarkets.com is the world's leading source for international market research reports and market data. We provide you with the latest data on international and regional markets, key industries, the top companies, new products and the latest trends.
Attachment
Global Sustainable Farming Market
CONTACT: CONTACT: ResearchAndMarkets.com Laura Wood,Senior Press Manager [email protected] For E.S.T Office Hours Call 1-917-300-0470 For U.S./ CAN Toll Free Call 1-800-526-8630 For GMT Office Hours Call +353-1-416-8900 

Disclaimer: The above press release comes to you under an arrangement with GlobeNewswire. Agrigate Global takes no editorial responsibility for the same.