Neuromeka Achieves Triple ISO Certification Milestone, Continues U.S. Market Expansion Efforts
Neuromeka manufacturing facility in Pohang, South Korea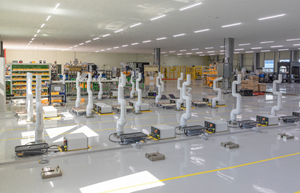 Neuromeka manufacturing facility in Pohang, South Korea
AUSTIN, Texas, Sept. 05, 2023 (GLOBE NEWSWIRE) — Neuromeka, a global collaborative robot manufacturer, announced its recent attainment of three certifications from the International Organization for Standardization (ISO), including ISO 9001 (Quality Management System), ISO 14001 (Environmental Management System), ISO 45001 (Occupational Health and Safety Management System).
ISO 9001 certification indicates Neuromeka's commitment to having rigorous standards across all its industrial operations, ensuring that customers consistently get high-quality products and services.
ISO 14001 defines requirements for an Environmental Management System, demonstrating Neuromeka's dedication to improving environmental performance by optimizing resource utilization and waste reduction.
ISO 45001 emphasizes Neuromeka's systematic approach to managing occupational health and safety, with a focus on identifying and addressing workplace risks, ultimately contributing to corporate profitability and enhancing organizational safety and health protocols.
Additionally, Neuromeka is the first Korean collaborative robot manufacturer to adhere to ISO 14001 and 45001 standards, reinforcing the company's dedication to environmental sustainability and worker safety as top priorities.
These certifications mark a significant milestone for Neuromeka, as the company strives to enhance the trust and reliability of its products for a global market. In particular, this achievement signifies Neuromeka's journey to establishing a strong presence in the United States. The company has already secured certification from the National Sanitation Foundation (NSF) last month for its 6-axis collaborative robot, ensuring the safety of specialized food processing equipment and related components. This certification further guarantees that Neuromeka adheres to the highest standards of safety and quality in the food and beverage industry.
"As we expand our global footprint, we continue to pursue the highest manufacturing standards to earn the trust of our customers spanning diverse applications and industries," said Michael Park, President of Neuromeka's US Branch. "We are excited to continue demonstrating our commitment to delivering high-quality products to a broader, global audience."
About Neuromeka
Neuromeka specializes in the design and manufacture of collaborative robot systems. Neuromeka's team of engineers and researchers develop innovative automation technologies that improve workplace productivity, efficiency, and safety. Their products are used in the automotive, warehouse, F&B, and manufacturing industries.
For more information about Neuromeka and its collaborative robot solutions, please contact Stephanie Park at [email protected].
A photo accompanying this announcement is available at https://www.globenewswire.com/NewsRoom/AttachmentNg/ddcc0aa3-8b10-4495-8689-6c97dec43ebe

Disclaimer: The above press release comes to you under an arrangement with GlobeNewswire. Agrigate Global takes no editorial responsibility for the same.