Global Wellness Management Solution Market 2023-2028: Corporate Wellness in a Remote Work Era – Adapting Wellness Management for Distributed Workforces
Global Wellness Management Solution Market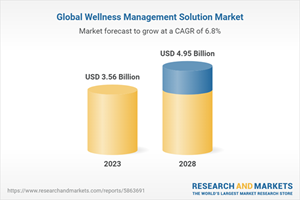 Dublin, Sept. 28, 2023 (GLOBE NEWSWIRE) — The "Global Wellness Management Solution Market (2023-2028) by Service Offering and Geography, Competitive Analysis, Impact of Covid-19 and Ansoff Analysis" report has been added to ResearchAndMarkets.com's offering.
The Global Wellness Management Solution Market is poised for substantial growth, with an estimated value of USD 3.56 billion in 2023 and an expected reach of USD 4.95 billion by 2028, marking a Compound Annual Growth Rate (CAGR) of 6.81% during this period.
Wellness Management Solutions: These encompass comprehensive programs or platforms designed to help individuals achieve and maintain overall well-being. These solutions empower users to live healthier and more balanced lives by offering tools and information for various aspects of wellness, including fitness, diet, stress management, mental health, and lifestyle improvements.
Key Drivers:
Rising Adoption of Wellness Programs: The rapid adoption of wellness programs is attributed to the increasing prevalence of chronic diseases and health issues related to lifestyle choices. Preventative measures for improving general well-being and reducing healthcare costs are gaining recognition among individuals and organizations.
Increasing Awareness of Health and Well-Being: Easy access to health information and services has raised awareness of the importance of a healthy lifestyle. This awareness has fueled the demand for wellness management solutions that offer guidance, resources, and personalized approaches to address individual health goals.
Wellness Tourism: Wellness tourism presents a significant opportunity for the market. Travelers are seeking destinations and activities that prioritize relaxation, rejuvenation, and overall well-being. Integrating wellness management systems with the travel and tourism industry can enhance the travel experience and attract health-conscious travelers.
Technological Advancements: Recent advancements in technology, including wearable devices, smartphone applications, data analytics, and artificial intelligence, are enabling more personalized and effective wellness solutions. These technologies allow users to track health data, receive real-time feedback, and access personalized recommendations for fitness and nutrition.
Challenges:
Shortage of Qualified Professionals: One challenge facing the market is the lack of skilled and authorized personnel to support wellness programs. A dearth of qualified professionals in fields such as fitness training, nutrition counseling, and mental health assistance can hinder the adaptability and effectiveness of wellness management solutions.
Data Privacy and Security: Collecting and managing sensitive health information requires robust data security measures to protect user privacy. Addressing potential data breaches and ensuring compliance with data security regulations are crucial for building trust and maintaining market credibility.
Market Segmentation:
The Global Wellness Management Solution Market is segmented based on Service Offering, and these services include Health Risk Assessment, Nutrition and Weight Management, Smoking Cessation, Fitness Services, Biometric Screening, Alcohol/Substance Abuse Services, Mental/Behavioral Health Management, Virtual Consultation/Virtual Care, Employee Assistance Programs, and Health Benefits Programs.
Health Risk Assessment and Nutrition and weight Management hold a larger market share due to increasing concerns about obesity and chronic diseases, offering desirable options for individuals, corporate wellness initiatives, and healthcare professionals promoting general well-being.
Regional Insights:
The Americas hold a significant market share driven by increasing healthcare costs, a growing health-conscious population, and well-established wellness programs.
Recent Developments:
Ola Digital Health Launches Solutions: In May 2023, Ola Digital Health launched solutions for the health and wellness industry.
Volvo Group Partners with Narayana Health: Also in May 2023, Volvo Group partnered with Narayana Health to launch 'Wellness on Wheels,' an advanced and connected community mobile clinic.
Key Players:
Leading companies in the market include:
Aduro Inc
Alphabet Inc.
Anthem Inc.
Centene Corp
Cerner Corp
Cleveland Clinic
ComPsych Corp
Corporate Fitness work
CVS Health Corp
Discovery Limited
EXOS
LifeWorks.Inc
Limeade
Medcan Clinic
TELUS
UnitedHealth Group
Virgin Group Ltd
Wellright
Wellsteps
Workplace Options
These companies are actively involved in research and development to offer wellness management solutions at competitive prices, and they are adopting new technologies to enhance user engagement and program effectiveness.
In summary, the global wellness management solution market is on a growth trajectory due to increasing health awareness, technological advancements, and the need for preventative wellness measures. Challenges related to a shortage of qualified professionals and data security must be addressed, but the market's potential remains substantial.
Key Attributes:
| | |
| --- | --- |
| Report Attribute | Details |
| No. of Pages | 195 |
| Forecast Period | 2023 – 2028 |
| Estimated Market Value (USD) in 2023 | $3.56 Billion |
| Forecasted Market Value (USD) by 2028 | $4.95 Billion |
| Compound Annual Growth Rate | 6.8% |
| Regions Covered | Global |
For more information about this report visit https://www.researchandmarkets.com/r/l5s0n6
About ResearchAndMarkets.com
ResearchAndMarkets.com is the world's leading source for international market research reports and market data. We provide you with the latest data on international and regional markets, key industries, the top companies, new products and the latest trends.
Attachment
Global Wellness Management Solution Market
CONTACT: CONTACT: ResearchAndMarkets.com Laura Wood,Senior Press Manager [email protected] For E.S.T Office Hours Call 1-917-300-0470 For U.S./ CAN Toll Free Call 1-800-526-8630 For GMT Office Hours Call +353-1-416-8900 

Disclaimer: The above press release comes to you under an arrangement with GlobeNewswire. Agrigate Global takes no editorial responsibility for the same.