Global Soy Foods Market Report 2023-2030: Cargill, Eden Foods and Archer Daniels Midland Unique Offerings Capture Market Share in the Soy Foods Industry
Global Market for Soy Foods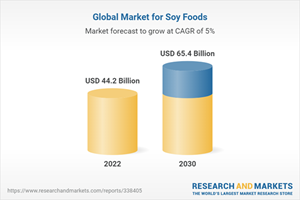 Dublin, Oct. 19, 2023 (GLOBE NEWSWIRE) — The "Soy Foods – Global Strategic Business Report" report has been added to ResearchAndMarkets.com's offering.
The Global Soy Foods Market is experiencing significant growth, and it's projected to reach a substantial size of $65.4 billion by the year 2030. This market expansion is being driven by several key factors, including a consumer shift toward plant-based diets for both health and environmental reasons. Soy-based products, such as soy milk and tofu, are in high demand due to their nutritional benefits and sustainability compared to animal-based products.
The report provides an in-depth analysis of the soy foods market, helping businesses make informed and strategic decisions. It covers various aspects, including:
1. U.S. Market: The soy foods market in the U.S. is estimated to be $12.1 billion in 2022, showcasing the growing demand for soy-based products. Consumers in the U.S. are increasingly turning to soy foods as part of their plant-based diet choices.
2. Key Growth Drivers: The report likely delves into the key drivers fueling the growth of the global soy foods market. This could include factors like health-conscious consumer choices, sustainability concerns, and dietary trends.
3. Regional Opportunities: The report highlights burgeoning markets such as China, Japan, and Canada. These regions are showing promising growth in the soy foods market, presenting opportunities for businesses to expand their operations.
4. Emerging Trends in Asia-Pacific: The Asia-Pacific region, including countries like Australia, India, and South Korea, is poised for substantial growth in the soy foods market, with a forecasted market size of $8.9 billion by 2030. The report might explore the trends and factors driving this growth in detail.
5. Competitive Landscape: In the dynamic world of the soy foods market, understanding key competitors and their strategies is essential for staying ahead in global competitiveness. The report likely provides insights into the competitive landscape, helping businesses position themselves strategically.
6. Market Projections: The global soy foods market is projected to reach $65.4 billion by 2030, representing significant growth. The report could provide a breakdown of market segments, growth rates, and key factors contributing to this projection.
For businesses operating in or considering entering the soy foods market, this report can serve as a valuable resource to understand the market dynamics, growth opportunities, and competitive landscape, ultimately aiding in informed decision-making and strategic planning.
Market Scope
The data provided here offers a comprehensive analysis of the global soy foods market, spanning a period from 2014 to 2030. It's presented in several tables and includes information about annual sales figures in US$ million and percentage growth rates. The data is segmented into different categories, focusing on various geographic regions, including the USA, Canada, Japan, China, Europe, Asia-Pacific, Latin America, the Middle East, and Africa.
Furthermore, it delves into different product categories within the soy foods market, such as milk, oil, and other products. It explores the usage of soy products across different applications, including food and beverages, feed, and other miscellaneous uses. This data offers valuable insights into the dynamics of the global soy foods market, both historically and with future projections.
Market Overview
Influencer Market Insights
World Market Trajectories
Soy Foods – Global Key Competitors Percentage Market Share in 2022 (E)
Competitive Market Presence – Strong/Active/Niche/Trivial for Players Worldwide in 2022 (E)
Impact of Covid-19 and a Looming Global Recession
What's New for 2023?
Special coverage on Russia-Ukraine war; global inflation; easing of zero-Covid policy in China and its `bumpy` reopening; supply chain disruptions, global trade tensions; and risk of recession.
Global competitiveness and key competitor percentage market shares
Market presence across multiple geographies – Strong/Active/Niche/Trivial
Online interactive peer-to-peer collaborative bespoke updates
Access to digital archives and Research Platform
Complimentary updates for one year
Select Competitors (Total 138 Featured) –
Adisoy Foods & Beverages Pvt. Ltd.
Archer Daniels Midland Company
Caramuru Group
Cargill, Inc.
Eden Foods, Inc.
Miracle Soybean Food International Corporation
Nordic Soya Oy
Northern Soy
The Hain Celestial Group, Inc.
Victoria Group A.D.
Key Attributes:
| | |
| --- | --- |
| Report Attribute | Details |
| No. of Pages | 233 |
| Forecast Period | 2022 – 2030 |
| Estimated Market Value (USD) in 2022 | $44.2 Billion |
| Forecasted Market Value (USD) by 2030 | $65.4 Billion |
| Compound Annual Growth Rate | 5.0% |
| Regions Covered | Global |
For more information about this report visit https://www.researchandmarkets.com/r/wrghs
About ResearchAndMarkets.com
ResearchAndMarkets.com is the world's leading source for international market research reports and market data. We provide you with the latest data on international and regional markets, key industries, the top companies, new products and the latest trends.
Attachment
Global Market for Soy Foods
CONTACT: CONTACT: ResearchAndMarkets.com Laura Wood,Senior Press Manager [email protected] For E.S.T Office Hours Call 1-917-300-0470 For U.S./ CAN Toll Free Call 1-800-526-8630 For GMT Office Hours Call +353-1-416-8900 

Disclaimer: The above press release comes to you under an arrangement with GlobeNewswire. Agrigate Global takes no editorial responsibility for the same.