Global Functional Food Market Report 2023: A $305+ Billion Industry by 2028 from $207.7 Billion in 2022 – Trends, Share, Size, Growth, Opportunity and Forecasts
Global Functional Food Market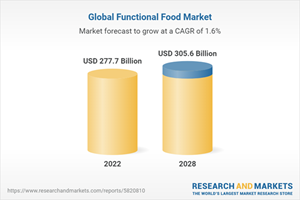 Dublin, Sept. 19, 2023 (GLOBE NEWSWIRE) — The "Functional Food Market: Global Industry Trends, Share, Size, Growth, Opportunity and Forecast 2023-2028" report has been added to ResearchAndMarkets.com's offering.
The global functional food market size reached US$ 207.7 Billion in 2022. Looking forward, the market is set to reach US$ 305.6 Billion by 2028, exhibiting a growth rate (CAGR) of 6.5% during 2023-2028.
The functional food industry is on the rise, offering a range of processed products designed to promote health and reduce the risk of diseases. This category includes a diverse array of items such as fruits, vegetables, nuts, seeds, seafood, and more.
Notably, there's a growing market for sports nutrition products aimed at enhancing athletes' performance, including creatine and whey protein-based functional foods. Additionally, the demand for functional foods that mitigate the risk of diabetes and cardiovascular diseases is on the upswing, driven by heightened health awareness and a focus on healthy eating habits.
The trend of on-the-go snacking is also contributing to market growth. Key players are leveraging social media to promote their unique products, further fueling demand. Furthermore, the rising interest in probiotic foods for digestive health and the adoption of innovative technologies in product formulation are expected to bolster market expansion in the future.
Key Questions Answered in This Report:
What was the size of the global functional food market in 2022?
What is the expected growth rate of the global functional food market during 2023-2028?
What has been the impact of COVID-19 on the global functional food market?
What are the key factors driving the global functional food market?
What is the breakup of the global functional food market based on the product type?
What is the breakup of the global functional food market based on the ingredient?
What is the breakup of the global functional food market based on the distribution channel?
What are the key regions in the global functional food market?
Who are the key players/companies in the global functional food market?
Key Attributes:
| | |
| --- | --- |
| Report Attribute | Details |
| No. of Pages | 144 |
| Forecast Period | 2022 – 2028 |
| Estimated Market Value (USD) in 2022 | $277.7 Billion |
| Forecasted Market Value (USD) by 2028 | $305.6 Billion |
| Compound Annual Growth Rate | 1.6% |
| Regions Covered | Global |
Competitive Landscape:
Abbott Laboratories
Amway
BASF SE
Cargill Incorporated
Clif Bar & Company
Danone S.A.
General Mills inc.
Glanbia PLC
Hearthside Food Solutions LLC
Kellogg Company
Kerry Group plc
Nestle S.A.
Raisio Oyj
Key Market Segmentation:
Breakup by Product Type:
Bakery Products
Breakfast Cereals
Snack/Functional Bars
Dairy Products
Baby Food
Others
Breakup by Ingredient:
Probiotics
Minerals
Proteins and Amino Acids
Prebiotics and Dietary Fiber
Vitamins
Others
Breakup by Distribution Channel:
Supermarkets and Hypermarkets
Specialist Retailers
Convenience Stores
Online Stores
Others
Breakup by Application:
Sports Nutrition
Weight Management
Clinical Nutrition
Cardio Health
Others
Breakup by Region:
North America
Asia-Pacific
China
Japan
India
South Korea
Australia
Indonesia
Others
Europe
Germany
France
United Kingdom
Italy
Spain
Russia
Others
Latin America
Middle East and Africa
For more information about this report visit https://www.researchandmarkets.com/r/wc7tbo
About ResearchAndMarkets.com
ResearchAndMarkets.com is the world's leading source for international market research reports and market data. We provide you with the latest data on international and regional markets, key industries, the top companies, new products and the latest trends.
Attachment
Global Functional Food Market
CONTACT: CONTACT: ResearchAndMarkets.com Laura Wood,Senior Press Manager [email protected] For E.S.T Office Hours Call 1-917-300-0470 For U.S./ CAN Toll Free Call 1-800-526-8630 For GMT Office Hours Call +353-1-416-8900 

Disclaimer: The above press release comes to you under an arrangement with GlobeNewswire. Agrigate Global takes no editorial responsibility for the same.