Global Food Sterilization Equipment Market Trends: Batch and Continuous Sterilization Lead Growth
Global Market for Food Sterilization Equipment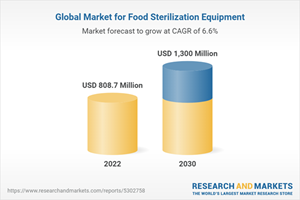 Dublin, Aug. 29, 2023 (GLOBE NEWSWIRE) — The "Food Sterilization Equipment – Global Strategic Business Report" report has been added to ResearchAndMarkets.com's offering.
The report provides a comprehensive analysis of the global healthy snacks market. Encompassing various product types including cereal and granola bars, nuts and seeds snacks, meat snacks, dried fruit, and trail mix snacks, the study evaluates sales trends across geographic regions such as the USA, Canada, Japan, China, Europe, Asia-Pacific, Latin America, the Middle East, and Africa.
The report projects a significant growth trajectory, with the global healthy snacks market estimated to reach $39.7 billion by 2030, attributing this rise to changing post-COVID business dynamics.
The analysis showcases prominent competitors' market presence and percentage shares, offering insights into growth prospects across different regions and product segments. The report's expanded coverage for 2023 includes key global events and challenges, along with online interactive updates, providing valuable insights into this evolving market landscape.
Global Food Sterilization Equipment Market to Reach $1.3 Billion by 2030
In the changed post COVID-19 business landscape, the global market for Food Sterilization Equipment estimated at US$808.7 Million in the year 2022, is projected to reach a revised size of US$1.3 Billion by 2030, growing at a CAGR of 6.6% over the analysis period 2022-2030.
Batch Sterilization, one of the segments analyzed in the report, is projected to record 7.3% CAGR and reach US$841.5 Million by the end of the analysis period. Taking into account the ongoing post pandemic recovery, growth in the Continuous Sterilization segment is readjusted to a revised 5.4% CAGR for the next 8-year period.
The U.S. Market is Estimated at $220.3 Million, While China is Forecast to Grow at 11.7% CAGR
The Food Sterilization Equipment market in the U.S. is estimated at US$220.3 Million in the year 2022. China, the world's second largest economy, is forecast to reach a projected market size of US$330.3 Million by the year 2030 trailing a CAGR of 11.7% over the analysis period 2022 to 2030.
Among the other noteworthy geographic markets are Japan and Canada, each forecast to grow at 2.7% and 4.9% respectively over the 2022-2030 period. Within Europe, Germany is forecast to grow at approximately 4% CAGR.
What`s New for 2023?
Special coverage on Russia-Ukraine war; global inflation; easing of zero-Covid policy in China and its `bumpy` reopening; supply chain disruptions, global trade tensions; and risk of recession.
Global competitiveness and key competitor percentage market shares
Market presence across multiple geographies – Strong/Active/Niche/Trivial
Online interactive peer-to-peer collaborative bespoke updates
Access to digital archives and Research Platform
Complimentary updates for one year
A selection of companies mentioned in this report includes
JBT Corporation
Buhler
Ventilex
Surdry
Cosmed Group
Steriflow
Allpax
Hisaka
Systec
De Lama
Raphanel
Sun Sterifaab
Industrial Sonomecanics (ISM)
For more information about this report visit https://www.researchandmarkets.com/r/koagqw
About ResearchAndMarkets.com
ResearchAndMarkets.com is the world's leading source for international market research reports and market data. We provide you with the latest data on international and regional markets, key industries, the top companies, new products and the latest trends.
Attachment
Global Market for Food Sterilization Equipment
CONTACT: CONTACT: ResearchAndMarkets.com Laura Wood,Senior Press Manager [email protected] For E.S.T Office Hours Call 1-917-300-0470 For U.S./ CAN Toll Free Call 1-800-526-8630 For GMT Office Hours Call +353-1-416-8900 

Disclaimer: The above press release comes to you under an arrangement with GlobeNewswire. Agrigate Global takes no editorial responsibility for the same.