Global Food Certification Market to Reach $7.4 Billion by 2028, Fueled by Escalating Food Safety Concerns
Global Food Certification Market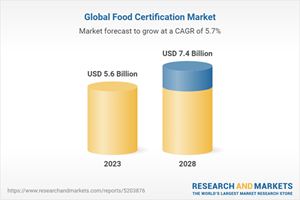 Dublin, Aug. 31, 2023 (GLOBE NEWSWIRE) — The "Food Certification Market by Type (Iso 22000, Brc, Sqf, Ifs, Halal, Kosher, Free-Form Certifications), Application(Meat, Poultry, and Seafood, Dairy, Infant Food, Beverages, Bakery & Confectionery), Risk Category and Region – Global Forecast to 2028" report has been added to ResearchAndMarkets.com's offering.
The global food certification market, valued at USD 5.6 billion in 2023, is on an upward trajectory, projected to hit USD 7.4 billion by 2028, boasting a Compound Annual Growth Rate (CAGR) of 5.7%. This growth is attributed to the rising demand for food certifications fueled by the escalating instances of foodborne illnesses worldwide.
In today's interconnected world, where food traverses multiple borders, ensuring food safety and quality has become paramount. Food certification emerges as a critical tool to validate that food products meet established regulations, mitigating contamination risks, foodborne diseases, and health hazards.
The World Health Organization (WHO) revealed in May 2022 that nearly 600 million individuals, approximately 1 in 10 people globally, fall ill due to contaminated food consumption, causing 420,000 annual deaths. These alarming statistics underscore the essential role food certification plays in safeguarding public health. As consumer awareness grows, demands for stringent food safety measures and certifications rise, shaping the market's growth trajectory.
Premium Insights:
Increase in Foodborne Outbreaks to Drive Growth
US Holds Largest Market Share in 2023
Germany Dominates Market in 2023
ISO 22000 Certification Leads Market in 2023
High-Risk Food Segment Dominates Market, 2023 vs. 2028
Meat, Poultry, and Seafood Products Segment Leads Market, 2023 vs. 2028
Market Dynamics:
Drivers:
Trade Restrictions Due to Food Contamination in Europe
High Consumption of High-Risk Food Products
Surge in Global Food Trade
Stringent Industry Standards and Certification Requirements
Growing Consumer Demand for Food Transparency and Credibility
Restraints:
Limited Infrastructure and Funding for Food Safety in Developing Countries
Lack of Standardized Food Certification Guidelines
Opportunities:
Rise of Domestic Foodservice and Retail Chains
Increased Budget Allocation for Food Safety
Adoption of Halal, Organic, and 'Free-From' Certifications
Outsourcing Certification to Third Parties
Focus on Food Safety Management in Processing Industry
Emerging Markets in Asia, Africa, and Developing Countries
Challenges:
Instances of False Labeling and Certifications
Lack of Resources and Awareness Among Small-Scale Manufacturers
North America Takes the Lead:
North America, specifically the United States and Canada, witnesses the highest growth rate. These nations enforce stringent regulatory standards through agencies like the U.S. Food and Drug Administration (FDA) and Canadian Food Inspection Agency (CFIA). Such regulations drive demand for food certification as businesses strive to comply with these standards. Consumer consciousness about food quality and safety bolsters this demand, especially for 'free-from' foods.
ISO 22000 Certification: The Global Trendsetter:
ISO 22000 certification is pivotal for food industries, ensuring food safety and quality management systems. Beyond product safety, it fosters a competitive edge, aiding in consumer trust and business partnerships. The certification's global popularity is testament to its effectiveness in meeting evolving consumer demands.
High-Risk Foods: A Driving Force:
High-risk food products, encompassing perishable and easily contaminated goods, dominate the food certification market. These products undergo rigorous assessments, including hygiene checks, manufacturing processes, and storage conditions, to ensure compliance with quality standards and regulations.
'Free-From' Foods: An Upward Trajectory:
'Free-from' foods, catering to dietary restrictions and allergies, fuel market growth. The category includes gluten-free, palm-oil-free, GMO-free, lactose-free, organic, and vegan foods. Consumer awareness of health benefits propels demand, driving growth in food certification programs.
Companies Paving the Way:
Leading the charge are industry pioneers including:
ALS
AssureCloud
AsureQuality
Bureau Veritas
CDG Certification Limited
Control Union Certifications
DEKRA
DNV
Eagle Certification Group
Equalitas Certifications Limited
Eurofins Scientific
FoodChain ID Group Inc.
Indocert
Intertek Group PLC
INTL Certification Limited
Kiwa
LQRA
MS Certification Services Pvt. Ltd.
Ocean Management Services
Safe Food Alliance
SGS
SOCOTEC
TQ Cert
TUV SUD
UL LLC
These companies are at the forefront of ensuring food safety and quality, embodying the market's commitment to global health.
For more information about this report visit https://www.researchandmarkets.com/r/abpd0c
About ResearchAndMarkets.com
ResearchAndMarkets.com is the world's leading source for international market research reports and market data. We provide you with the latest data on international and regional markets, key industries, the top companies, new products and the latest trends.
Attachment
Global Food Certification Market
CONTACT: CONTACT: ResearchAndMarkets.com Laura Wood,Senior Press Manager [email protected] For E.S.T Office Hours Call 1-917-300-0470 For U.S./ CAN Toll Free Call 1-800-526-8630 For GMT Office Hours Call +353-1-416-8900 

Disclaimer: The above press release comes to you under an arrangement with GlobeNewswire. Agrigate Global takes no editorial responsibility for the same.