Global Enteral and Parenteral Medical Nutrition Market Forecast to 2028: Rising Prevalence of Gastrointestinal Diseases Drives Growth
Global Enteral and Parenteral Medical Nutrition Market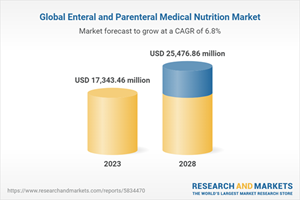 Dublin, Aug. 22, 2023 (GLOBE NEWSWIRE) — The "Enteral and Parenteral Medical Nutrition Market Forecast to 2028 – COVID-19 Impact and Global Analysis by Indication, Nutrition Type, Form, Product Type, Route of Administration, Age Group, and Distribution Channel" report has been added to ResearchAndMarkets.com's offering.
The global enteral and parenteral medical nutrition market is projected to witness substantial growth and is estimated to reach $25.47 billion by 2028, with a compound annual growth rate (CAGR) of 6.8% during the forecast period from 2023 to 2028. The growth of the market is attributed to the rise in the prevalence of gastrointestinal diseases, increasing cases of malnutrition, and premature births.
Key Growth Drivers
Rise in Prevalence of Gastrointestinal Diseases: The increasing incidence of gastrointestinal diseases is contributing to the demand for enteral and parenteral medical nutrition products. These products provide patients with essential nutrients and support their nutritional needs during illness and recovery, aiding in better disease management and improved patient outcomes.
Increasing Cases of Malnutrition and Premature Births: Malnutrition and premature births are significant health concerns globally. Enteral and parenteral medical nutrition products are used to provide specialized nutrition to patients who are unable to consume adequate nutrients through regular food intake, thereby addressing malnutrition and supporting the growth and development of premature infants.
Market Opportunities
Growing Strategic Initiatives by Companies: Companies in the enteral and parenteral medical nutrition market are actively involved in developing specific formulations and plant-based nutrition products to cater to the unique needs of consumers. These efforts are aimed at delivering more precise and enhanced treatment options to patients with various health conditions, driving market growth.
Future Trends
Specific Formulations and Plant-Based Nutrition Products: Nutritional requirements differ based on the type of illness, and there is a surge in demand for products that help consumers manage their health proactively. Pharmaceutical companies are providing enteral and parenteral nutrition with individualized (patient-specific) constituents, tailored to specific health conditions. Additionally, plant-based nutrition products are gaining popularity as consumers show a growing preference for healthier and sustainable food options.
Age Group-Based Insights
Above 60 Years Segment Holds the Largest Market Share: In 2022, the above 60 years segment accounted for the largest share in the enteral and parenteral medical nutrition market. The increasing geriatric population base and the need for home-based treatments are expected to promote the growth of this segment during the forecast period.
Competitive Landscape
Key players in the enteral and parenteral medical nutrition market include Abbott Laboratories, Nestle SA, Nutricia International BV, Medtrition Inc, Fresenius Kabi AG, B. Braun SE, Smartfish AS, Nutrisens SAS, AYMES International Ltd, Medifood International SA, Easy Line Ltd, Charing Cross Scientific AS, Baxter International Inc, and Medica Nutrition Inc.
Forecast Period
The study covers the analysis of key stakeholders and provides quantitative market estimations for each micro-market segment from 2023 to 2028, with a CAGR estimation for each segment during the forecast period.
Key Attributes:
| | |
| --- | --- |
| Report Attribute | Details |
| No. of Pages | 720 |
| Forecast Period | 2023 – 2028 |
| Estimated Market Value (USD) in 2023 | $17343.46 million |
| Forecasted Market Value (USD) by 2028 | $25476.86 Million |
| Compound Annual Growth Rate | 6.8% |
| Regions Covered | Global |
For more information about this report visit https://www.researchandmarkets.com/r/kaalz9
About ResearchAndMarkets.com
ResearchAndMarkets.com is the world's leading source for international market research reports and market data. We provide you with the latest data on international and regional markets, key industries, the top companies, new products and the latest trends.
Attachment
Global Enteral and Parenteral Medical Nutrition Market
CONTACT: CONTACT: ResearchAndMarkets.com Laura Wood,Senior Press Manager [email protected] For E.S.T Office Hours Call 1-917-300-0470 For U.S./ CAN Toll Free Call 1-800-526-8630 For GMT Office Hours Call +353-1-416-8900 

Disclaimer: The above press release comes to you under an arrangement with GlobeNewswire. Agrigate Global takes no editorial responsibility for the same.