Global Emergency Food Market 2023-2028: Key Players General Mills and Kellogg Company Among Others Partner with NGOs to Provide Emergency Food Aid
Global Emergency Food Market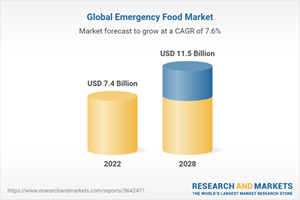 Dublin, Oct. 25, 2023 (GLOBE NEWSWIRE) — The "Emergency Food Market: Global Industry Trends, Share, Size, Growth, Opportunity and Forecast 2023-2028" report has been added to ResearchAndMarkets.com's offering.
The global emergency food market is experiencing remarkable growth, driven by increasing demand for on-the-go, healthy meal options worldwide. Emergency food products, including comfort and high-energy essentials such as nuts, canned meats, fruits, vegetables, and more, serve as crucial lifelines during emergencies, including natural disasters like earthquakes, hurricanes, and floods.
Government initiatives in various countries to provide essential supplies during times of crisis, coupled with growing partnerships between non-governmental organizations (NGOs) and food suppliers, are significant factors fueling the rapid expansion of the emergency food market. Infrastructure and distribution channel improvements, especially in emerging markets, are providing additional momentum.
The increasing consumption of emergency foods as part of the daily diet among the working population, driven by fast-paced lifestyles, is a key driver. These factors, along with the cost efficiency and the rising demand for long shelf-life food products, especially in regions with volatile climatic conditions, enhance the market's potential.
Key Highlights:
The global emergency food market was valued at US$7.4 billion in 2022.
By 2028, the market is expected to reach US$11.5 billion, exhibiting a Compound Annual Growth Rate (CAGR) of 7.4% during 2023-2028.
Market Trends:
Government initiatives aimed at providing basic necessities during emergencies are propelling market growth.
Collaborations between NGOs and food suppliers to support those in need during uncertain scenarios are driving market expansion.
Improvements in infrastructure and distribution channels, particularly in developing regions, are contributing to market momentum.
The increasing use of emergency food products in the daily diet of the working population due to busy lifestyles is boosting market growth.
The demand for food with longer shelf life is growing, particularly in areas with uncertain climatic conditions.
Cost-effective convenience food products are strengthening market growth.
Key Market Segmentation:
The report provides detailed insights into key market segments, categorized by product type, sales channel, and end user. Key segments include non-perishable pasteurized milk, ready-to-eat meals, protein or fruit bars, dry cereals or granola, peanut butter, dried fruits, canned juice, and infant food.
The sales channel segments encompass offline and online sales, while end users include civil and military sectors.
Companies Mentioned:
Prominent companies in the emergency food market include Conagra Brands Inc., Del Monte Foods Inc. (Del Monte Pacific Ltd.), General Mills Inc., Lotte Corporation, Nestle S.A., PepsiCo Inc., Princes Group (Mitsubishi Corporation), SOS Food Lab LLC, The Coca-Cola Company, The Kellogg Company, and The Kraft Heinz Company.
Key Attributes:
| | |
| --- | --- |
| Report Attribute | Details |
| No. of Pages | 140 |
| Forecast Period | 2022 – 2028 |
| Estimated Market Value (USD) in 2022 | $7.4 Billion |
| Forecasted Market Value (USD) by 2028 | $11.5 Billion |
| Compound Annual Growth Rate | 7.6% |
| Regions Covered | Global |
For more information about this report visit https://www.researchandmarkets.com/r/sdi9qx
About ResearchAndMarkets.com
ResearchAndMarkets.com is the world's leading source for international market research reports and market data. We provide you with the latest data on international and regional markets, key industries, the top companies, new products and the latest trends.
Attachment
Global Emergency Food Market
CONTACT: CONTACT: ResearchAndMarkets.com Laura Wood,Senior Press Manager [email protected] For E.S.T Office Hours Call 1-917-300-0470 For U.S./ CAN Toll Free Call 1-800-526-8630 For GMT Office Hours Call +353-1-416-8900 

Disclaimer: The above press release comes to you under an arrangement with GlobeNewswire. Agrigate Global takes no editorial responsibility for the same.