Global Agricultural Chelates Industry Report 2023: A $989.7 Million market by 2028 from $665.8 Million in 2022 – Trends, Share, Size, Growth, Opportunities and Forecasts
Global Agricultural Chelates Market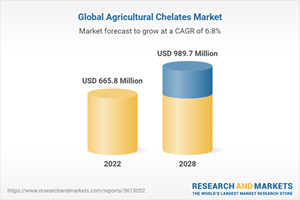 Dublin, Sept. 28, 2023 (GLOBE NEWSWIRE) — The "Agricultural Chelates Market: Global Industry Trends, Share, Size, Growth, Opportunity and Forecast 2023-2028" report has been added to ResearchAndMarkets.com's offering.
The global agricultural chelates market size reached US$ 665.8 Million in 2022. Looking forward, the market is set to reach US$ 989.7 Million by 2028, exhibiting a growth rate (CAGR) of 6.58% during 2023-2028.
Agricultural chelates, which are organic compounds capable of capturing and gradually releasing essential metal ions for plant nutrient uptake, play a crucial role in modern agriculture.
These chelates, encompassing metals like calcium, magnesium, iron, and more, can either be synthesized or naturally occur during the decomposition of organic matter. They include a range of substances such as organic acids, amino acids, lignosulfonates, and sugar acids.
Their significance lies in their ability to enhance the solubility of micronutrients, reduce nutrient loss due to leaching, and inhibit the growth of plant pathogens by limiting available iron. Additionally, they offer cost-effective solutions due to their lower usage requirements.
The global agricultural chelates market is experiencing growth driven by the increasing focus on agricultural development worldwide. Organic chelates are readily absorbed by plant roots and leaves, facilitating nutrient uptake. They neutralize the positive charge of micronutrients, allowing them to pass through plant surfaces more efficiently. These advantages make them a valuable asset in the cultivation of high-value crops like corn, cucumbers, and citrus groves.
Furthermore, the demand for high-value crops is on the rise, contributing to the market's expansion. In modern agriculture, plant nutrients are vital for achieving optimal crop growth and development.
Chelated fertilizers are increasingly used to enhance the efficiency of micronutrient utilization. This trend, coupled with the growing global population, paints a positive picture for the agricultural chelates market.
Key Questions Answered in This Report
What was the size of the global agricultural chelates market in 2022?
What is the expected growth rate of the global agricultural chelates market during 2023-2028?
What are the key factors driving the global agricultural chelates market?
What has been the impact of COVID-19 on the global agricultural chelates market?
What is the breakup of the global agricultural chelates market based on the type?
What is the breakup of the global agricultural chelates market based on the crop type?
What is the breakup of the global agricultural chelates market based on application?
What are the key regions in the global agricultural chelates market?
Who are the key players/companies in the global agricultural chelates market?
Key Attributes:
| | |
| --- | --- |
| Report Attribute | Details |
| No. of Pages | 139 |
| Forecast Period | 2022 – 2028 |
| Estimated Market Value (USD) in 2022 | $665.8 Million |
| Forecasted Market Value (USD) by 2028 | $989.7 Million |
| Compound Annual Growth Rate | 6.8% |
| Regions Covered | Global |
Competitive Landscape:
The competitive landscape of the industry has also been examined along with the profiles of the key players being
Akzo Nobel N.V.
Aries Agro Ltd
BASF SE
Dow Inc.
Haifa Negev Technologies Ltd.
Mitsubishi Chemical Corporation
Nouryon
Nufarm Limited
Protex International SA
The Andersons Inc.
Valagro (Syngenta AG)
Van Iperen International B.V.
Yara International ASA.
Key Market Segmentation:
Breakup by Type:
Synthetic
EDTA
EDDHA
DTPA
IDHA
Others
Organic
Lignosulfonates
Aminoacids
Heptagluconates
Others
Breakup by Crop Type:
Grains and Cereals
Pulses and Oilseeds
Commercial Crops
Fruits and Vegetables
Turf and Ornamentals
Breakup by Application:
Soil
Foliar
Fertigation
Others
Breakup by Region:
North America
United States
Canada
Asia-Pacific
China
Japan
India
South Korea
Australia
Indonesia
Others
Europe
Germany
France
United Kingdom
Italy
Spain
Russia
Others
Latin America
Brazil
Mexico
Others
Middle East and Africa
For more information about this report visit https://www.researchandmarkets.com/r/n9c8pd
About ResearchAndMarkets.com
ResearchAndMarkets.com is the world's leading source for international market research reports and market data. We provide you with the latest data on international and regional markets, key industries, the top companies, new products and the latest trends.
Attachment
Global Agricultural Chelates Market
CONTACT: CONTACT: ResearchAndMarkets.com Laura Wood,Senior Press Manager [email protected] For E.S.T Office Hours Call 1-917-300-0470 For U.S./ CAN Toll Free Call 1-800-526-8630 For GMT Office Hours Call +353-1-416-8900 

Disclaimer: The above press release comes to you under an arrangement with GlobeNewswire. Agrigate Global takes no editorial responsibility for the same.