"Global Aeroponics Market Set to Reach $2.2 Billion by 2028, Driven by Sustainable and Innovative Farming Practices
Global Aeroponics Market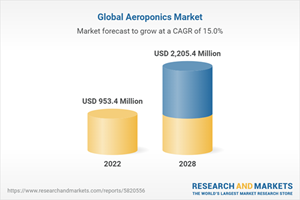 Dublin, Nov. 10, 2023 (GLOBE NEWSWIRE) — The "Aeroponics Market: Global Industry Trends, Share, Size, Growth, Opportunity and Forecast 2023-2028" report has been added to ResearchAndMarkets.com's offering.
The global aeroponics market, valued at US$ 953.4 million in 2022, is poised for substantial growth, with a projected Compound Annual Growth Rate (CAGR) of 14.19% during the period 2023-2028.
Aeroponics: A Sustainable and Innovative Farming Solution
Aeroponics, an advanced hydroponics method, involves cultivating a variety of crops in a controlled mist-based environment, eliminating the need for soil-filled pots. Plants are suspended in the air, and their root structures are periodically nourished with nutrient-enriched solutions. This innovative approach utilizes low-pressure, high-pressure, and ultrasonic fogger systems, along with advanced sensors, lighting, and climate control monitors. In comparison to traditional farming, aeroponics offers higher crop yields, minimal water and space requirements, and generates zero toxic waste. It also accelerates plant growth, mitigates pest infestations, enables year-round production, and demands minimal maintenance.
Key Market Trends Driving Growth
The global aeroponics market is experiencing significant growth driven by the expanding agriculture industry, increased adoption of indoor and vertical farming practices, and a rising demand for organic, disease-free food products. Aeroponics systems promote the cultivation of organic food without the need for synthetic fertilizers, pesticides, or growth regulators. Shrinking arable land for traditional farming practices is further fueling the market's expansion. Technological advancements, such as automated lighting and irrigation systems, smartphone application-based monitoring, and greenhouse solutions with retractable roofs, are contributing to market growth. Extensive research and development activities and favorable government policies are also expected to boost the market.
Key Market Segmentation
The report provides a detailed analysis of sub-segments within the global aeroponics market, including forecasts at the global, regional, and country levels from 2023 to 2028. The market is categorized based on components and applications.
Breakup by Component:
Lighting
Irrigation Component
Sensor
Climate Control
Building Material
Others
Breakup by Application:
Indoor Farming
Outdoor Farming
Breakup by Region:
North America:
Asia-Pacific:
China
Japan
India
South Korea
Australia
Indonesia
Others
Europe:
Germany
France
United Kingdom
Italy
Spain
Russia
Others
Latin America:
Middle East and Africa.
Competitive Landscape
The competitive landscape of the aeroponics industry features prominent players, including AERO Development Corp, AeroFarms, Altius Farms, BrightFarms, CleanGreens Solutions SA, Evergreen Farm Oy, Freight Farms Inc., LettUs Grow Ltd., Living Greens Farm Inc., and Ponics Technologies.
Key Questions Answered in This Report:
How has the global aeroponics market performed, and what is the outlook for the coming years?
What impact has COVID-19 had on the global aeroponics market?
What are the key regional markets?
What is the breakdown of the market by component?
What is the breakdown of the market by application?
What are the key driving factors and challenges in the industry?
What is the market structure, and who are the key players?
What is the level of competition in the industry?
Key Attributes:
| | |
| --- | --- |
| Report Attribute | Details |
| No. of Pages | 141 |
| Forecast Period | 2022 – 2028 |
| Estimated Market Value (USD) in 2022 | $953.4 Million |
| Forecasted Market Value (USD) by 2028 | $2205.4 Million |
| Compound Annual Growth Rate | 15.0% |
| Regions Covered | Global |
For more information about this report visit https://www.researchandmarkets.com/r/8drkds
About ResearchAndMarkets.com
ResearchAndMarkets.com is the world's leading source for international market research reports and market data. We provide you with the latest data on international and regional markets, key industries, the top companies, new products and the latest trends.
Attachment
CONTACT: CONTACT: ResearchAndMarkets.com Laura Wood,Senior Press Manager [email protected] For E.S.T Office Hours Call 1-917-300-0470 For U.S./ CAN Toll Free Call 1-800-526-8630 For GMT Office Hours Call +353-1-416-8900 

Disclaimer: The above press release comes to you under an arrangement with GlobeNewswire. Agrigate Global takes no editorial responsibility for the same.