Germany kicks-off a significant reduction of CO2 footprint in cereal crops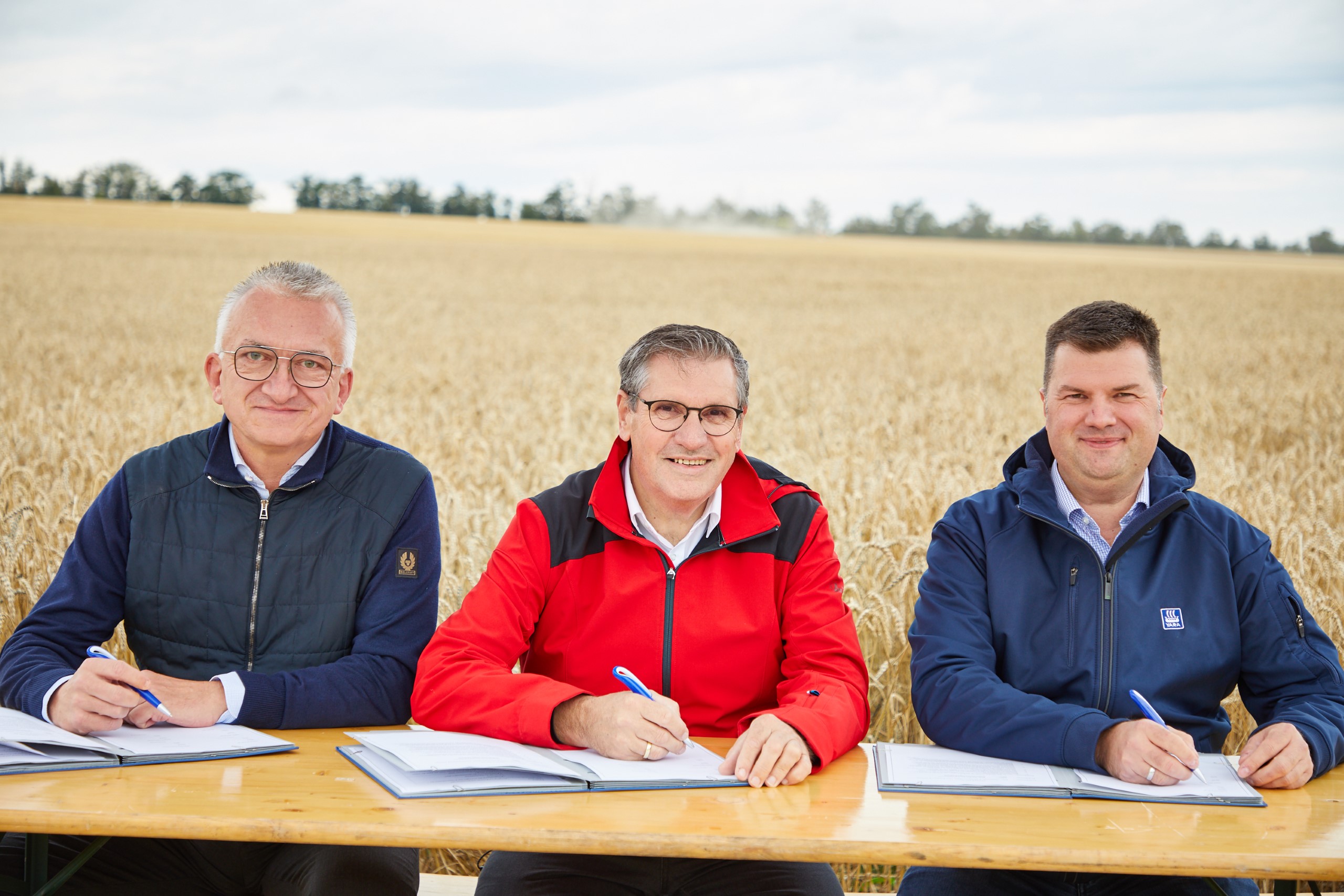 SIGNING THE AGREEMENT: Michael Gutting, Managing Partner of Bindewald & Gutting Mill Group;Norbert Lötz, Managing Director for Production and Technology at Harry-Brot; and Marco Fleischmann, Managing Director of Yara Germany.
Yara Germany, the Bindewald & Gutting Milling Group and Harry-Brot signed a cooperation agreement aimed at decarbonizing cereal cultivation in Germany through the use of green fertilizers. For this purpose, Norwegian ammonia produced with hydropower will be processed in Rostock.
As early as of 2023/24 growing season, contract farmers of the Bindewald & Gutting Milling Group will use Yara's green fertilizer on an area of around 1,600 ha. The fertilizer will be produced from green ammonia at Yara's plant in Rostock, Germany.
Unlike traditional methods that use fossil fuels like natural gas for ammonia extraction, green ammonia is produced using renewable energy sources such as wind, hydropower, or solar energy. This process involves obtaining the necessary hydrogen for ammonia synthesis through electrolysis. The outcome is a fertilizer with up to 90% reduced CO2 footprint, compared to conventional methods.
​​​​​​​​​​​​​In this context, Yara Germany, all nine locations of the Bindewald & Gutting Milling Group, and Harry-Brot signed a cooperation agreement with the shared goal of reducing CO2 emissions in cereal production. The partnership will help in reducing carbon footprint along the entire food value chain, starting from fertilizers to sales and ultimately reaching end consumers.
Germans want a climate-friendly food production
An IPSOS study commissioned by Yara revealed that 74% of German consumers want product packaging to display the CO2 footprint, with 53% willing to pay extra for food produced with reduced fossil fuels. By using green fertilizer, grain CO2 footprints can be reduced by up to 30%, offering consumers a sustainable food choice and supporting climate-friendly production.
An additional reduction in field emissions is attainable through optimized fertilizer management, incorporating balanced crop nutrition, the selection of the most efficient nitrogen form, and site-specific fertilization tailored to crop needs. By integrating these approaches with Yara's digital precision farming tools, the company provides its partners with a comprehensive fertilization solution, complemented by decades of expertise in this domain.
Benoît Lamaison, SVP of the Continental Europe Business Unit, welcomed the cooperation with the Bindewald & Gutting Milling Group and Harry-Brot: "Today's signing of our cooperation agreement officially kicks off the first project in Germany using Yara's green fertilizer solution based on fossil-free ammonia. We are looking forward to the cooperation and hope this is the first of many partnerships across the entire food value chain."
"Our partnership with the Bindewald & Gutting Milling Group and Harry-Brot is a crucial first step to decarbonize German agriculture. It is a concrete example of how food production can be transformed in a sustainable way. However, not only all stakeholders along the food value chain are challenged and invited to actively participate in the green transformation of agriculture but also politicians promoting the expansion of renewable energies," adds Marco Fleischmann, Managing Director of Yara Germany. ​​​​​​​
Significant CO2 footprint reduction from the field to baked goods
With nine locations and approximately 500 employees, the Bindewald & Gutting Milling Group is one of Germany's leading flour producers. Driven by its sustainability objectives, the mill group plans to use this pilot project to assess the CO2 footprint of their grain and monitor the product's carbon footprint. For them, the partnership with Yara represents a logical extension of their long-standing commitment to pursuing more sustainable production practices over the course of several decades.
As the market leader in bread and bakery products, Harry-Brot is continuously pursuing innovative practices across the entire value chain. Driven by a strong commitment to sustainability, the company is always evolving. In the project partnership, they will transform the resulting flour into high-quality food products, thus covering the complete value chain from raw materials to grocery store shelves.
"The avoidance and reduction of greenhouse gas emissions in all scopes is at the core of our sustainability strategy. While we are continuously working on reducing Scopes 1 and 2 CO2 emissions, with short delivery and transport routes and efficient production, we are still dependent on agriculture and our suppliers when it comes to Scope 3 emissions. If we succeed, starting with fertilization, we can reduce emissions precisely where a large proportion of our supply chain emissions has always occurred. This is why we are proud to be part of this innovative project," explains Norbert Lötz, Managing Director for Production and Technology at Harry-Brot.
The partners are looking forward to the close cooperation and are hoping for a pull effect in the sector, so that the joint approach to reduce the CO2 footprint in cereal cultivation is replicated by other players as well.
  
What is the CO2 footprint?
The CO2 footprint provides a measure of a product's climate-friendliness by encompassing the total greenhouse gases generated throughout its production process. In this calculation, carbon dioxide (CO2) serves as the reference point. To account for the varying impact of different greenhouse gases on global warming, their effects are converted into CO2 equivalents (CO2 eq).
CO2 footprint of nitrogen fertilizers
Today Yara's nitrate-based mineral fertilizers produced in the European Union and Norway already have a carbon footprint that is about 50 to 60 percent lower compared with most non-EU fertilizers thanks to the use of a best available technology (BAT) catalytic process that was first developed by Yara and later shared with other producers. Using renewable electricity to produce nitrate-based green fertilizers will lower the carbon footprint by a further 80 to 90 percent. The carbon footprint calculations of Yara fertilizers are verified by DNV, an independent quality assurance and certification service provider. Yara is working across all production sites to reduce the remaining climate impact, for example, also by enabling the use of recycled nutrients and further improving the energy efficiency of its production facilities.
Contact
Mechthild Moor
Head of Public Relations and Political Communication, Yara Germany
M: +49 259 479 8140
E: [email protected]
Marius Wærhaug Madsen
Communication Manager, Yara International ASA
M: +47 977 23 199
E: [email protected] 
About Yara
Yara grows knowledge to responsibly feed the world and protect the planet. Supporting our vision of a world without hunger and a planet respected, we pursue a strategy of sustainable value growth, promoting climate-friendly crop nutrition and zero-emission energy solutions. Yara's ambition is focused on growing a nature positive food future that creates value for our customers, shareholders and society at large and delivers a more sustainable food value chain.
To achieve our ambition, we have taken the lead in developing digital farming tools for precision farming and work closely with partners throughout the food value chain to improve the efficiency and sustainability of food production. Through our focus on clean ammonia production, we aim to enable the hydrogen economy, driving a green transition of shipping, fertilizer production and other energy intensive industries.
Founded in 1905 to solve the emerging famine in Europe, Yara has established a unique position as the industry's only global crop nutrition company. We operate an integrated business model with around 17,000 employees and operations in over 60 countries, with a proven track record of strong returns. In 2022, Yara reported revenues of USD 24 billion.
www.yara.com 

Disclaimer: The above press release comes to you under an arrangement with GlobeNewswire. Agrigate Global takes no editorial responsibility for the same.