ESG Reporting Software Market Size and Share Analysis Report 2023 – Global Industry Demand Forecast to 2030
ESG Reporting Software Market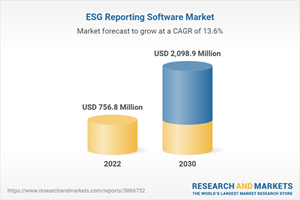 Dublin, Sept. 04, 2023 (GLOBE NEWSWIRE) — The "ESG Reporting Software Market Size and Share Analysis by Component, Deployment Type, Organization Size, Vertical – Global Industry Demand Forecast to 2030" report has been added to ResearchAndMarkets.com's offering.
The ESG reporting software market has witnessed significant growth, with its size reaching USD 756.8 million in 2022 and projected to reach USD 2,098.9 million by 2030, showcasing a robust compound annual growth rate of 13.6% in the upcoming years.
As environmental, social, and governance (ESG) factors gain prominence in investment decisions, businesses are recognizing the need for ESG reporting software to showcase their sustainability efforts. This software serves as a conduit for ethical investors seeking long-term value and positive societal impact through their investments.
By adopting ESG practices and leveraging reporting software, companies bolster their image as socially and environmentally responsible entities. This not only attracts ethical investors but also allows businesses to share their sustainability initiatives transparently with the public, customers, and potential partners, thereby enhancing their brand reputation.
With global governments and regulatory bodies mandating ESG reporting and disclosures, ESG reporting software is a vital tool for gathering and managing ESG data. This ensures that businesses can effectively meet regulatory obligations while also monitoring their progress toward ESG goals. By providing insights into inner progress and facilitating data-driven decision-making, ESG reporting tools drive accountability and ongoing improvements in ESG initiatives.
Among the offerings in the ESG reporting software market, the solutions category stands out as the predominant revenue generator, commanding a substantial share of approximately 70%. Tailored to meet ESG reporting and disclosure requirements, these solutions encompass a range of software products equipped to collect, analyze, and report on ESG data. They empower businesses to stay compliant with regulations while effectively promoting their sustainability endeavors.
Driven by investor demands, regulatory mandates, and an increasing focus on ESG compliance, the demand for ESG reporting software solutions continues to surge. Businesses are recognizing the importance of data integrity and streamlined reporting processes, prompting investments in these software solutions. Notably, North America has been at the forefront of software adoption, leveraging its technological ecosystem to integrate ESG concepts into operations.
The region's willingness to adopt ESG reporting software has been shaped by the region's technological advancement and the growing recognition of ESG's significance in business operations. Established software providers in North America have played a pivotal role in advancing ESG reporting solutions, setting a strong foundation for the market's expansion.
With the global landscape witnessing increased industrialization, urbanization, and the rise of startups, the demand for ESG reporting software is set to surge further, establishing its pivotal role in sustainable business practices.
Key Attributes:
| | |
| --- | --- |
| Report Attribute | Details |
| No. of Pages | 230 |
| Forecast Period | 2022 – 2030 |
| Estimated Market Value (USD) in 2022 | $756.8 Million |
| Forecasted Market Value (USD) by 2030 | $2098.9 Million |
| Compound Annual Growth Rate | 13.6% |
| Regions Covered | Global |
Company Profiles
Wolters Kluwer N.V.
Nasdaq, Inc
PricewaterhouseCoopers LLP
Workiva Inc
London Stock Exchange Group plc
Diligent Corporation
Sphera Solutions, Inc
Thoma Bravo, L.P.
Intelex Technologies, ULC
Novisto Inc
Emex Software Ltd
Anthesis Consulting Group
Diginex Solutions (HK) Limited
KERAMIDA Inc
Bain & Company Inc
Key Topics Covered:
Chapter 1. Research Scope
1.1. Research Objectives
1.2. Market Definition
1.3. Analysis Period
1.4. Market Size Breakdown by Segments
1.5. Market Data Reporting Unit
1.6. Key Stakeholders
Chapter 2. Research Methodology
2.1. Secondary Research
2.2. Primary Research
2.3. Market Size Estimation
2.4. Data Triangulation
2.5. Currency Conversion Rates
2.6. Assumptions for the Study
Chapter 3. Executive Summary
Chapter 4. Voice of Industry Experts/KOLs
Chapter 5. Market Indicators
Chapter 6. Industry Outlook
6.1. Market Dynamics
6.1.1. Trends
6.1.2. Drivers
6.1.3. Restraints/challenges
6.1.4. Impact analysis of drivers/restraints
6.2. Impact of COVID-19
6.3. Porter's Five Forces Analysis
Chapter 7. Global Market
7.1. Overview
7.2. Market Revenue, by Component 2017-2030)
7.3. Market Revenue, by Deployment Mode (2017-2030)
7.4. Market Revenue, by Organization Size 2017-2030)
7.5. Market Revenue, by Vertical (2017-2030)
7.6. Market Revenue, by Region (2017-2030)
For more information about this report visit https://www.researchandmarkets.com/r/v3c66y
About ResearchAndMarkets.com
ResearchAndMarkets.com is the world's leading source for international market research reports and market data. We provide you with the latest data on international and regional markets, key industries, the top companies, new products and the latest trends.
Attachment
ESG Reporting Software Market
CONTACT: CONTACT: ResearchAndMarkets.com Laura Wood,Senior Press Manager [email protected] For E.S.T Office Hours Call 1-917-300-0470 For U.S./ CAN Toll Free Call 1-800-526-8630 For GMT Office Hours Call +353-1-416-8900 

Disclaimer: The above press release comes to you under an arrangement with GlobeNewswire. Agrigate Global takes no editorial responsibility for the same.