Dolomite Powder Market revenue to surpass USD 11 Billion by 2035, says Research Nester
Major dolomite powder market players include Lhoist Group, SCR-Sibelco NV, Imerys S.A., Minerals Technologies Inc., Omya AG, Carmeuse, Arihant Min chem, Nordkalk Corporation, Longcliffe Quarries Ltd., and Shanghai Hy-Sailing Chemical Tech.
New York, Oct. 05, 2023 (GLOBE NEWSWIRE) — The global dolomite powder market size is predicted to expand at ~4% CAGR between 2023 and 2035. The market is projected to garner a revenue of USD 11 billion by the end of 2035, up from a revenue of ~USD 3 billion in the year 2022.The growth of the market in this region could be influenced by growing agriculture activities. For instance, India's agricultural land (sq. km) was estimated to be about 1785278 sq. Km in 2021. Hence, the utilization of dolomite powder is also projected to grow. Dolomite powder is a natural mineral that has long been employed in the farming industry. It is an amalgam of magnesium and calcium carbonate that is renowned for its alkaline qualities, which may enhance the condition of the soil and encourage plant growth. 
Request Free Sample Copy of this Report @ https://www.researchnester.com/sample-request-3947
Employing dolomite powder in agriculture has many advantages, one of which is that it can assist maintain the pH balance of the soil. The soil's acidity or alkalinity is measured by its pH, which is crucial for plant growth. Most plants do thrive in soil that has a pH of between about 5 and 7. However, triggers including acid rain, the usage of nitrogen fertilizer, and significant rainfall can cause soil to become acidic. An excess of acidity in the soil can harm plant development and nutrient uptake. By raising the pH of acidic soils, dolomite powder can make them more alkaline and favorable for plant growth.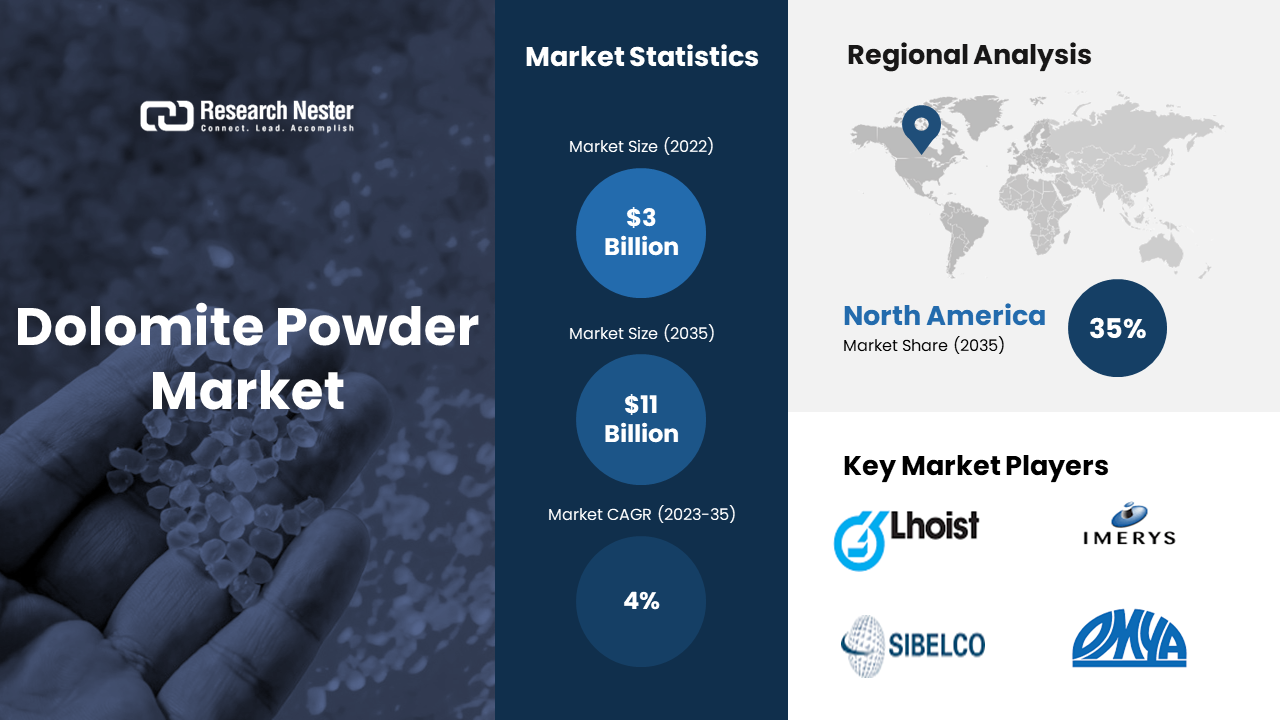 Growing Rubber Production to Boost the Growth of Global Dolomite Powder Market
With the growing production of rubber, the market for dolomite powder is also surging. The total amount of natural rubber generated globally in 2022 was close to 13 million metric tons. Since 2000, when near 5 million metric tons of natural rubber were produced globally, this amount has risen significantly. Dolomite powder is utilized as an ingredient in the rubber industry since it is affordable. The rubber sector also uses dolomite powder as a lubricant as it offers durability, effectiveness, and flexibility.
Dolomite Powder Market: Regional Overview 
The market is segmented into five major regions including North America, Europe, Asia Pacific, Latin America, and the Middle East and Africa region.  
Growing Production of Automotive to Drive the Market Growth in North America
The dolomite powder market in North America is estimated to generate the highest share of about 35% over the projected period. The growth of the market in this region could be influenced by growing production of automotive. In 2022, North America produced approximately 13 million automobiles. The North American economy is heavily dependent on the production of vehicles which is further also influencing market for dolomite powder.
Make an Inquiry Before Buying this Report @
https://www.researchnester.com/inquiries-before-buying-3947
Surge in Production of Steel to Influence the Market Expansion in Asia Pacific
The market in Asia Pacific for dolomite powder is set to have significant growth over the coming years. This is set to be encouraged by growing production of steel in this region. In the Asia-Pacific region, where about 29 million tons of stainless steel were produced in 2021, China produced the most stainless-steel slabs. Therefore, the market demand for dolomite powder is also on surge.
Dolomite Powder, Segmentation by Application
Steel Making
Cement Industry
Agriculture
Glass
Ceramic
Rubber
The steel making segment is projected to grow at the highest share in the market over the forecast period. The major factor for its growth is rising construction activities since the utilization of steel in this sector is growing. According to estimates, there were 794,431 built-up areas (BUAs) worldwide in 2016. This number is expected to increase to about 849,406 residents by 2022. In addition, 2 million new buildings are anticipated to be built by 2050.
Dolomite Powder, Segmentation by Type
Calcium Dolomite
Magnesium Dolomite
The calcium dolomites segment is estimated to hold the highest market share of about 60% over the forecast period. The growth of the segment is poised to be encourage by growing cement production. Global cement production was anticipated to reach about 3 billion tons in 2022. Magnesium carbonate, a component of dolomite that is used as a cement ingredient, has several applications. It can substitute limestone or sand, making production more cost-effective than that of alternatives including fly ash and slag.
Request for Customization of this Report @ https://www.researchnester.com/customized-reports-3947
A few of the well-known industry leaders in the dolomite powder market that are profiled by Research Nester are Lhoist Group, SCR-Sibelco NV, Imerys S.A., Minerals Technologies Inc., Omya AG, Carmeuse, Arihant Min chem, Nordkalk Corporation, Longcliffe Quarries Ltd., Shanghai Hy-Sailing Chemical Tech. Co.,Ltd., and others.
Recent Development in the Market 
In order to form a distribution relationship in Latin America, SONGWON International Inc. and Omya AG, a top producer of industrial minerals and speciality chemicals, will work together.
To fulfil the expanding demand from the steel sector, Lhoist Group is increasing the capacity of its vertical kilns, which are also more energy-efficient.
About Research Nester
Research Nester is a one-stop service provider with a client base in more than 50 countries, leading in strategic market research and consulting with an unbiased and unparalleled approach towards helping global industrial players, conglomerates and executives for their futGure investment while avoiding forthcoming uncertainties. With an out-of-the-box mindset to produce statistical and analytical market research reports, we provide strategic consulting so that our clients can make wise business decisions with clarity while strategizing and planning for their forthcoming needs and succeed in achieving their future endeavors. We believe every business can expand to its new horizon, provided a right guidance at a right time is available through strategic minds.
CONTACT: AJ Daniel Corporate Sales, USA Research Nester Email: [email protected] USA Phone: +1 646 586 9123 Europe Phone: +44 203 608 5919

Disclaimer: The above press release comes to you under an arrangement with GlobeNewswire. Agrigate Global takes no editorial responsibility for the same.