Cleanfarms Collecting Unwanted Agricultural Pesticides and Old Livestock/Equine Medications in P.E.I. starting this week
Collection event for unwanted pesticides and old livestock/equine medications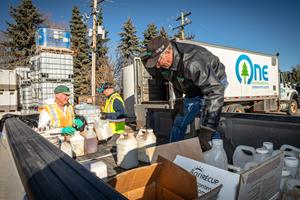 Seven collection events are being held in P.E.I. from October 30 to November 10 between 10 a.m. and 3 p.m.:
Bloomfield
Charlottetown
New Perth
O'Leary
Summerside
Summerside
Travellers Rest
ETOBICOKE, Ontario, Oct. 30, 2023 (GLOBE NEWSWIRE) — Starting this week, Prince Edward Island farmers can safely dispose of unwanted agricultural pesticides and old, obsolete livestock and equine medications through a Cleanfarms program.
Cleanfarms is operating seven collection events at local ag retailer locations throughout the province for a two-week period, starting on October 30 and ending on November 10.
"Every time we're here, farmers show us how important this program is to them. They save up materials and bring them to these events for drop off at no charge, recognizing that this helps keep their farms clean and ensures these materials don't go to landfill," says Cleanfarms' Executive Director Barry Friesen. "For our team, it's a great way to meet with farmers and learn about what's on their minds while providing a service that's valuable for them and the region as a whole."
The crop protection industry, in partnership with the Canadian Animal Health Institute (CAHI), covers the full cost of operating the program and disposing of the materials safely.
Since the program began, more than 4,200 tonnes of unwanted pesticides and 67.3 tonnes of obsolete farm animal (cattle, horses, goats, poultry) health medications have been collected across Canada.
This year's P.E.I. collection sites are in:
Bloomfield – McCain Fertilizer – 31 Gard Rd., 902-888-7431
Charlottetown – Cavendish Agri Services – 19 Riverside Dr., 902-566-5597
New Perth – McCain Fertilizer – 4763 Baldwins Rd., 902-888-7431
O'Leary – Cavendish Agri Services – 41 North St., 902-859-2200
Summerside – Cavendish Agri Services – 848 Read Dr., 902-438-4884
Summerside – McCain Fertilizer – 168 Greenwood Dr., 902-888-7431
Travellers Rest – PEI Agromart – 26210 Rt. 2, Travellers Rest St., 902-436-1600
More details can be found on Cleanfarms.ca under "what to recycle & where".
Materials accepted in the Cleanfarms program include:
Unwanted (or "obsolete") agricultural pesticides (identified with a Pest Control Product number on the label, including used miticide strips)
Commercial pesticides for golf courses and industrial and commercial pest control products (identified with a Pest Control Product number on the label)
Livestock/equine medications that are used on-farm in the rearing of livestock, poultry or horses in an agricultural context (identified with a DIN number, serial number, notification number or Pest Control Product number on the label)
The program does NOT accept:
Fertilizer (including Nitric acid), rinsate diluted solution, large quantities of unopened product
Full and unopened jugs of adjuvant or surfactant
Treated seed
Needles or sharps, medicated feed, aerosol containers, premises disinfectants and sanitizers (including Formaldehyde), veterinary clinic waste and medications, ear tags, and aerosols
Domestic pesticides, fertilizers and animal health products
Any other household hazardous waste
Cleanfarms rotates the program to regions across Canada every three years. Collection events will return to Prince Edward Island in 2026.
About Cleanfarms
Cleanfarms is an agricultural industry stewardship organization that contributes to a healthier environment and a sustainable future by recovering and recycling agricultural and related industry plastics, packaging and products. It is funded by its members in the crop protection, seed, fertilizer, animal health medication and ag plastics industries. It has staff located in Lethbridge, Alberta; Moose Jaw, Saskatchewan; Winnipeg, Manitoba; Etobicoke, Ontario; and St-Bruno, Quebec.
In addition to this program, Cleanfarms collects empty plastic agricultural pesticide and fertilizer containers, grain bags and twine for recycling. Cleanfarms also collects seed bags east of British Columbia and fertilizer bags (Quebec and PEI only) for responsible disposal.
Questions about which products are accepted in this collection program can be directed to 877-622-4460 or email Cleanfarms at [email protected].
Contact:
Barbara McConnell
[email protected]
M. 416-452-2373
A photo accompanying this announcement is available at https://www.globenewswire.com/NewsRoom/AttachmentNg/bd0aee41-58d0-470d-9595-5ffab878c7e0

Disclaimer: The above press release comes to you under an arrangement with GlobeNewswire. Agrigate Global takes no editorial responsibility for the same.