Bloomage Biotech Pioneers Sustainability Revolution: Unveiling Advanced Green Technology for Energy Conservation and Carbon Emission Reduction
Bloomage Biotech Pioneers Sustainability Revolution: Unveiling Advanced Green Technology for Energy Conservation and Carbon Emission Reduction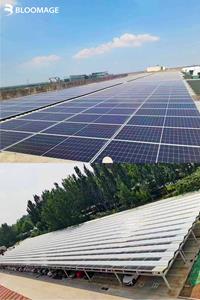 Parsippany, New Jersey, USA, Aug. 24, 2023 (GLOBE NEWSWIRE) — Bloomage Biotech, a visionary leader in biotechnology and biomaterials, employs an eco-friendly microbial fermentation process to produce hyaluronic acid and other bioactive substances. Unlike conventional extraction methods that rely on animal tissues, this innovative approach is remarkably more sustainable and eco-conscious. Yet, fermentation still generates steam and waste fluids, an aspect the company is ardently addressing.
Highlighting this focus, Zhu Sinan, Bloomage Biotech's General Manager of ESG (Environmental, Social, and Governance) Strategic Management Center, stated, "Properly managing and utilizing this steam and waste is a vital link in Bloomage Biotech's green industrial chain and achieving cyclic re-utilization."
In a significant step towards environmental stewardship, Bloomage Biotech's advanced steam collection and thermal energy recovery systems return the excess energy generated during production for factory heating, hot water supply, and the culinary needs of employees. Equipment designed to treat and recycle condensation saves 55,000 tons of soft water annually, while biogas electricity generation from the anaerobic phase of fermentation cuts down CO2 emissions by approximately 1,590 tons across all factories each year.
Beyond these achievements, the company has installed solar panels on its factory roof and carports, and has upgraded the aeration system to reduce organic matter and ammonia nitrogen pollution. These efforts have saved 290,000 kWh of electricity annually–a testament to Bloomage Biotech's relentless pursuit of green innovation.
Just as recycling and repurposing excess resources during production are critical to achieving greater sustainability, so is developing greener technologies and raising environmental standards through scientific innovations. Previous methods used to extract hyaluronic acid from animal tissues proved too inefficient and unsustainable for large-scale production, requiring 200 kilograms of rooster combs to yield merely one kilogram of the desired material. To ameliorate this shortcoming, Bloomage Biotech has based its production on a microbial fermentation method, supplanting animal extraction techniques and enabling greater efficiency in large-scale hyaluronic acid production. As the company continually improved the process through ceaseless innovation, the fermentation yield has reached an impressive 16-17g/L, amplifying production efficiency and championing animal protection.
Bloomage Biotech recently showcased an award-winning project from the "Bloomage Cup, " the first National Competition in Carbon Dioxide Capture, Conversion and Utilization, to emphasize the need for research collaboration between academia and industry. This project, titled "Electro-Carbon to Grain – Electro-Catalytic Coupling Microalgae Heterotrophic Fermentation Achieving CO2 to paramylon Synthesis," creatively used electro-catalysis to convert CO2 to ethanol and subsequently into sub-starch through naked algae fermentation. Achieving a net negative CO2 emission, this innovation also successfully converts waste CO2 into useful materials, enabling resource utilization with profound implications and substantial value for broader applications.
In the view of Zhu Sinan, the essence of creating a green supply chain lies in both developing sustainable raw materials and incorporating recycling in the production process. For a platform-based biomaterial company like Bloomage Biotech, this green supply chain should resonate through the entire product lifecycle and the enterprise's development. Constructing and managing a modern green supply chain hinges on technological innovation, digitalization, automation, and intelligent means to sustainably optimize the entire production link, ultimately achieving effective carbon emission reduction.
In 2023, Bloomage Biotech proudly established its ESG Strategic Management Center to oversee the corporate ESG management system and coordinate the company's carbon emission management. It also actively engages in global environmental and climate governance.
With these proactive initiatives, Bloomage Biotech stands as a beacon of environmental responsibility and sustainability, setting new industry standards and creating a more vibrant life for all.
About Bloomage Biotech
In 2000, Bloomage Biotech (formerly Bloomage Freda Biopharm Co., Ltd.) took its first steps as a producer of hyaluronic acid using microbial fermentation. After more than 20 years, Bloomage Biotech has emerged as a leading global biotechnology and biomaterial company specializing in hyaluronic acid industrialization. Bloomage Biotech is dedicated to improving people's quality of life by creating healthier experiences.
Attachment
Bloomage Biotech Pioneers Sustainability Revolution: Unveiling Advanced Green Technology for Energy Conservation and Carbon Emission Reduction
CONTACT: Bloomage Biotech [email protected] 

Disclaimer: The above press release comes to you under an arrangement with GlobeNewswire. Agrigate Global takes no editorial responsibility for the same.