Bloomage Biotech Celebrates 24th Anniversary: A Global Commitment to Employee Development, Well-Being, and Unity
Bloomage Biotech Celebrates 24th Anniversary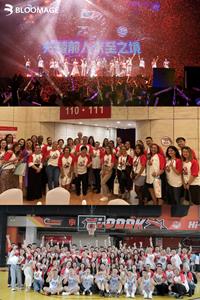 Parsippany, New Jersey, USA, Aug. 18, 2023 (GLOBE NEWSWIRE) — Bloomage Biotech marked its 24th anniversary with a grand three-day celebration at Bloomage LIVE-Wukesong in Beijing, from July 31st to August 2nd. The event attracted over 3,000 employees from diverse international backgrounds, reflecting the company's global reach and commitment to its workforce.
The celebration transcended a mere anniversary observance, offering a rich mosaic of experiences. Guided tours of the World Hyaluronic Acid Museum, insightful presentations on corporate culture, engaging athletic competitions, go-kart racing, and various game experiences served to uplift employee morale and strengthen their sense of fulfillment within the company.
Founded in 2000, Bloomage Biotech is a company specializing in biotechnology and biomaterials. From its inception, the company has placed great emphasis on the value of its employees, striving to enhance their happiness. This includes a focus on four main elements: mission, growth, health and safety, and connection. A sense of mission begins with identification. When employees feel that their work is valuable and meaningful, they are more proactive. During the anniversary celebration, employees learned that Bloomage Biotech's mission is " Creative technology for vibrant life," dedicated to "improving life quality, prolonging life length," and consistently delivering healthy, beautiful, and joyful life experiences.
Humans long for learning and growth. Bloomage Biotech tirelessly creates platforms for its employees, offering training programs that cover leadership enhancement, professional skill development, general ability training, and onboarding for new employees. In 2022, the company conducted over 2,000 training sessions, added more than 600 new courses to its learning platform, and accumulated 125,000 total training hours. To encourage continuous growth, Bloomage Biotech also offers annual bonuses for learning and development, ranging from $5,000 to $20,000 per person.
As a champion of health, safety, and the environment, Bloomage Biotech has been certified through the ISO45001 Occupational Health & Safety Management system. The company has established five safety regulation documents, with safety management personnel regularly visiting factories and production workshops to identify and eliminate potential risks. Through education and training, Bloomage ensures all employees understand legal regulations, safety procedures, accident prevention, and emergency response measures. The company also prioritizes new technologies and materials to prevent occupational diseases and ensure a healthy working environment.
Bloomage Biotech is a multinational enterprise operating in over 70 countries, including four subsidiaries in the U.S., France, Japan, and South Korea. With such a diverse and distributed team, it's important to emphasize connections among employees and departments. During the anniversary celebration, sports and games were used to enhance understanding, trust, and friendship between employees, respecting cultural differences.
Bloomage Biotech's Chairperson & CEO, Miss Zhao Yan, believes that "as a leader, it's a responsibility to take care of team members and create a work environment where happiness can be attained." At the celebration, she expressed her wish for everyone to "work joyfully, live earnestly."
About Bloomage Biotech
In 2000, Bloomage Biotech (formerly Bloomage Freda Biopharm Co., Ltd.) took its first steps as a producer of hyaluronic acid using microbial fermentation. After more than 20 years, Bloomage Biotech has emerged as a leading global biotechnology and biomaterial company specializing in hyaluronic acid industrialization. Bloomage Biotech is dedicated to improving people's quality of life by creating healthier experiences.
Attachment
Bloomage Biotech Celebrates 24th Anniversary
CONTACT: Bloomage Biotech [email protected] 

Disclaimer: The above press release comes to you under an arrangement with GlobeNewswire. Agrigate Global takes no editorial responsibility for the same.