Asset Management System Market revenue to cross USD 14 Billion by 2035, says Research Nester
Prominent asset management system market players include ABB Ltd., Adobe, Brookfield Asset Management, Honeywell International Inc., IBM Corp., Oracle Corporation, Rockwell Automation, Siemens AG, WSP Global Inc., and Zebra Technologies Corporation.
New York, Aug. 28, 2023 (GLOBE NEWSWIRE) — The global asset management system market size is predicted to grow at a CAGR of over ~14% from 2023 to 2035. The market is projected to garner a revenue of USD 14 billion by the end of 2035, up from a revenue of ~USD 4 billion in the year 2022.The major factor dominating the market's growth is the rise in construction activities. In 2016, there were estimated 794,431 built-up areas (BUAs) worldwide. Approximately 849,406 people are expected to live there by 2022. Furthermore, it is anticipated that 2 million new buildings will be built by 2050. Hence, the demand for asset management systems in the construction sector is on the rise. A project owner requires an asset management system with continuous monitoring capabilities in order to gather the most precise and successful data for their assets. The use of technology including barcodes and RFID, aids in the production of precise and up-to-date information regarding asset usage, location, and ownership.
Request Free Sample Copy of this Report @ https://www.researchnester.com/sample-request-5113
Furthermore, the prevalence of stealing of construction equipment is also surging. Although there is no centralized organization that monitors theft on construction sites, the National Equipment Registry calculates that the construction sector suffers a loss of up to USD 2 billion annually owing to stolen equipment.  Hence, with the adoption of an asset management system the prevalence of theft could be controlled by tracking the equipment.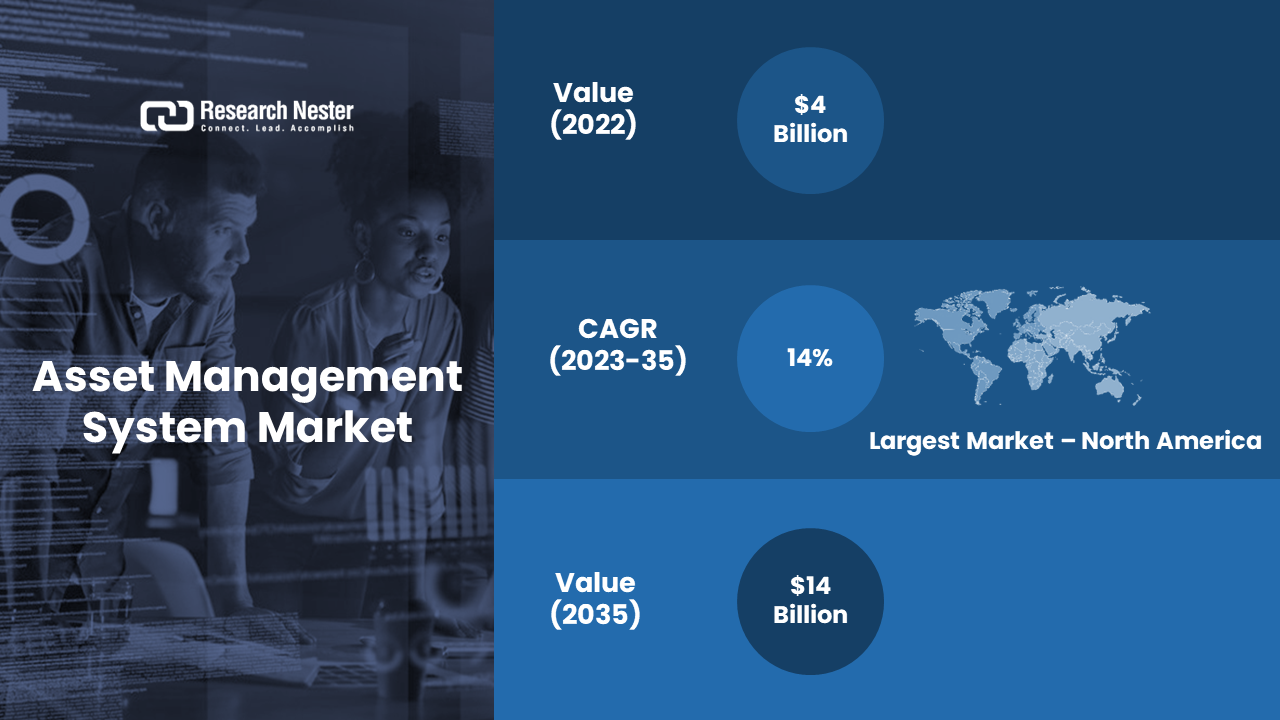 Asset Management System Market: Key Takeaways  
Market in North America to propel the highest growth.
The healthcare segment to garner the highest growth.
Market in Asia Pacific to grow at a notable rate.
Growing Use of Asset Management Systems by Government to Boost the Growth of the Asset Management System Market
Government agencies have an abundance of resources at their disposal. They make up a sizable amount of assets, which include everything from furnishings to trucks to everyday machines. Every asset is required for the workplace to operate. Evidently, if an organization lacks an asset management system, there are numerous risks connected. Asset loss or misplacement may result from the absence of such a mechanism. Software licenses must be current and valid, and each of the physical assets in a workplace must be kept up-to-date. Between 2021 and 2020, the overall global cost of data breaches in the public sector increased by roughly 78 percent. Hence, handling digital asset in the government sector is also necessary. Therefore, this factor is set to influence market demand.
Asset Management System Market: Regional Overview 
The market is segmented into five major regions including North America, Europe, Asia Pacific, Latin America, and the Middle East and Africa region. 
Growth in the Number of People Working from Home to Boost the Market Growth in North America
The North America asset management system market is expected to generate the highest revenue of about USD 10 billion by the end of 2035. The rise the market revenue is dominated by a growing number of people working from home. New American Community Survey (ACS) 1-year projections for 2021 from the U.S. Census Bureau show that the proportion of persons who spend the majority of their time working from home quadrupled between 2019 and 2021, rising from 5.7% (approximately 9 million people) to 17.9% (27.6 million). When working from home many organization provides laptops and other beneficial things to the remote workers which should be handled. Hence, in order to track this asset, the use of asset management systems is anticipated to grow.
Make an Inquiry Before Buying this Report @ https://www.researchnester.com/inquiries-before-buying-5113
Surge in the Use of Automotive to Dominate the Asia Pacific Market
The market in Asia Pacific for asset management systems is also set to have notable growth over the forecast period. This could be owing to the growing use of automobiles. Around 36 million passenger cars are estimated to be sold in the Asia-Pacific area, including the Middle East, in 2022, with about 22 million of those sales occurring in China. The growing combination of IoT, tagging, and cloud-based applications makes it easy to track and monitor assets in the region.
Asset Management System, Segmentation by Application
Healthcare
Public Sector
Retail
Hospitality
Industrial Manufacturing
Energy Utilities
Aviation
The healthcare sector in asset management system market is poised to garner the highest revenue of approximately USD 1 billion by the end of 2035. The rise in this segment's growth could be influenced by growing digitalization in the healthcare sector. This is because it is estimated that digitalizing the healthcare sector could reduce about 24% of healthcare cost and also improves patient treatment. However, with this comes the digital asset which needs to be managed. As a result, the market is set to grow.
Request for Customization of this Report @ https://www.researchnester.com/customized-reports-5113
Asset Management System, Segmentation by Asset Type
Returnable Transport Assets
Electronics Assets
In-Transit Equipment
The in-transit equipment segment is set to generate the largest revenue of about 51% over the forecast period, backed by growth in e-commerce activity. The number of online shoppers increases along with the growth of e-commerce globally. Digital consumers currently number about 2 billion as of 2023. Approximately 32% of the world's population is represented by this.
Asset Management System, Segmentation by Component
A few of the well-known industry leaders in the asset management system market that are profiled by Research Nester are ABB Ltd., Adobe, Brookfield Asset Management, Honeywell International Inc., IBM Corp., Oracle Corporation, Rockwell Automation, Siemens AG, WSP Global Inc., Zebra Technologies Corporation, and others. 
Recent Development in the Market 
Rockwell Automation introduced My Equipment Digital, a network-based device which may now be used to gather and update industrial automation asset data digitally. Firmware data and a once-only vulnerability evaluation are included in the digital collecting method.
The WSP Global Inc., team takes delight in setting the bar as high as possible and providing clients with the greatest asset management knowledge possible to position them for the future. WSP's global Asset Management team took part in the ISO TC251 Asset Management Plenary, which was held in Philadelphia, Pennsylvania, early in May 2023, to revise the ISO 55000 family of standards for Asset Management Systems.
About Research Nester
Research Nester is a one-stop service provider with a client base in more than 50 countries, leading in strategic market research and consulting with an unbiased and unparalleled approach towards helping global industrial players, conglomerates and executives for their future investment while avoiding forthcoming uncertainties. With an out-of-the-box mindset to produce statistical and analytical market research reports, we provide strategic consulting so that our clients can make wise business decisions with clarity while strategizing and planning for their forthcoming needs and succeed in achieving their future endeavors. We believe every business can expand to its new horizon, provided a right guidance at a right time is available through strategic minds.
CONTACT: AJ Daniel Corporate Sales, USA Research Nester Email: [email protected] USA Phone: +1 646 586 9123 Europe Phone: +44 203 608 5919

Disclaimer: The above press release comes to you under an arrangement with GlobeNewswire. Agrigate Global takes no editorial responsibility for the same.