Applied UV to Introduce Airocide® Pro+ Air Food Preservation Solution Designed to Control Ethylene Levels and Extend Shelf Life at the Global Produce & Floral Show, Together With Canon Virginia, a Subsidiary of Canon U.S.A.
Applied UV, Inc.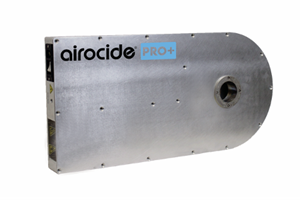 Removing Ethylene, a Gas Produced Naturally, is Critical to Reduce Ripening, Aging and Spoilage of Fruits and Vegetables
Applied UV's Patented and Proprietary Photocatalytic Oxidation Technology Removes Ethylene Safely and Effectively
Airocide® Pro+ Optimized and Smaller Size is Designed for Refrigerated Truck Trailers, Shipping Containers, Warehouses and Cold Rooms, all of Which Struggle With Concentrations of Ethylene
Airocide® Pro+ is Necessary Across the Entire Food Supply Chain From Processing to Distribution and Logistics, Extending Shelf Life, Reducing Spoilage and Improving the Yield on High Value Foods
NEW YORK, NY, Oct. 06, 2023 (GLOBE NEWSWIRE) — via NewMediaWire – Applied UV, Inc. (NASDAQ: AUVI), a leader in global food security, air quality, and intelligent building solutions, today announced its new product, the Airocide® Pro+ air purification system for food preservation, will be on display at the Global Produce & Floral Show, October 19 – 21, 2023, booth #3421 at the Anaheim Convention Center in California.
The next generation Airocide® Pro+ air purification system was engineered and manufactured through the collaborative efforts of Applied UV and Canon Virginia, Inc. ('CVI'), a subsidiary of Canon U.S.A., Inc. For more about the Airocide® Pro+ introduction at the upcoming industry show and Applied UV's relationship with CVI, follow this link.
According to government and academic organizations, one of the biggest contributors to mass amounts of waste within the fresh produce sector is directly linked to cases of overexposure to ethylene producers during the fruit ripening and storage process. On a global scale, the main contributor to food waste is fruits and vegetables with an estimated 45-50% of all harvested fresh products being lost or wasted within the food supply chain. This is roughly 1.3 billion tons of food, which equates to $680 billion of wasted fruits and vegetables each year. Controlling ethylene gas and eliminating the harmful preservation practices that use nitrogen and sulfur gas can help maintain the quality and extend the life of produce and horticultural products, allowing them to be stored for a much longer period of time. While refrigeration and humidity control will slow ripening and decay, they will not halt ethylene production. This makes ethylene control absolutely necessary in the cold chain.
"Our Airocide line has already proven effective at reducing spoilage and extending shelf life with global companies such as Del Monte, Dole, and Whole Foods, and most recently with Fresh Taste Produce, an organization directly involved in farming, packing, importing, processing, and distributing fresh produce from more than 35 countries," said Max Munn, CEO of Applied UV.
Munn continued, "With the introduction of our next generation Airocide product, we have a significant opportunity to address the persistent and increasingly costly problems associated with the presence of ethylene in the critical produce supply chain of cold storage, distribution and logistics. Together with CVI, we have developed an air purifier solution designed to meet the demanding space requirements found in refrigerated truck trailers, shipping containers and other environments where space is at a premium.  We are excited to enter this new market vertical and we look forward to sharing the Airocide® Pro+ innovative design and advanced technology at the upcoming event and driving new revenue opportunities for our air purification business."
For more information about the Global Produce & Floral Show, October 19 – 21, 2023, at the Anaheim Convention Center in California, click the following link, https://www.freshproduce.com/events/the-global-produce-and-floral-show/.
Airocide® System
The Airocide® System, originally developed by NASA with assistance from the University of Wisconsin at Madison, is an airborne pathogen killing technology that uses a patented combination of UVC and a proprietary, titanium dioxide based photocatalyst. Listed as an FDA Class II Medical device, the Airocide® technology is clinically proven and field tested to kill/remove/eliminate airborne pathogenic and non-pathogenic microorganisms, allergens, odors and harmful VOCs in a variety of applications and industries including healthcare, hospitality, grocery chains, wineries, commercial real estate, schools, dental offices and homes. Airocide® air purifiers are available at www.airocide.com
About Applied UV
Applied UV, Inc. engages in the pursuit of technologies focused on global food security, air quality, and intelligent building solutions tailored for the commercial and hospitality sectors. More details about Applied UV, Inc., and its subsidiaries can be found at https://www.applieduvinc.com.
For more on the latest developments and other exciting news, follow us on Twitter.
Forward-Looking Statements
The information contained herein may contain "forward‐looking statements." Forward‐looking statements reflect the current view about future events. When used in this press release, the words "anticipate," "believe," "estimate," "expect," "future," "intend," "plan," or the negative of these terms and similar expressions, as they relate to us or our management, identify forward‐looking statements. Such statements include, but are not limited to, its business strategy, future operating results and liquidity and capital resources outlook. Forward‐looking statements are based on the Company's current expectations and assumptions regarding its business, the economy and other future conditions. Because forward–looking statements relate to the future, they are subject to inherent uncertainties, risks and changes in circumstances that are difficult to predict. The Company's actual results may differ materially from those contemplated by the forward‐looking statements. They are neither statements of historical fact nor guarantees of assurance of future performance. We caution you therefore against relying on any of these forward‐looking statements. Factors or events that could cause the Company's actual results to differ may emerge from time to time, and it is not possible for the Company to predict all of them. The Company cannot guarantee future results, levels of activity, performance, or achievements. Except as required by applicable law, including the securities laws of the United States, the Company does not intend to update any of the forward‐looking statements.  References and links to websites have been provided as a convenience, and the information contained on such websites is not incorporated by reference into this press release.
For Additional Company Information:
Applied UV, Inc.
Max Munn
Applied UV Founder, CEO & Director
[email protected]
Investor Relations Contact:
TraDigital IR
Kevin McGrath
+1-646-418-7002
[email protected]
Attachment

Disclaimer: The above press release comes to you under an arrangement with GlobeNewswire. Agrigate Global takes no editorial responsibility for the same.