ACGME Presents New Proceedings Paper Detailing Three-Day Summit Focused on Nutrition in Medical Education
Proceedings of the Summit on Medical Education in Nutrition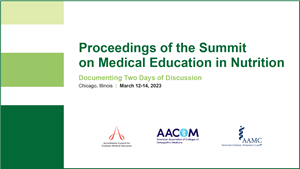 Chicago, IL, Oct. 02, 2023 (GLOBE NEWSWIRE) — The ACGME is pleased to present findings and resources from the Summit on Medical Education in Nutrition, held in collaboration with the American Association of Colleges of Osteopathic Medicine (AACOM) and the Association of American Medical Colleges (AAMC). These resources are an outcome of the February 12-14, 2023 meeting, which convened 100 physicians, members of ACGME, AACOM, and AAMC leadership, nutritionists, dieticians, and experts in nutrition to discuss strategies to ensure medical students, residents, and fellows are equipped with the knowledge and skills necessary to address nutrition during patient encounters. As a participant in the September 2022 White House Conference on Hunger, Nutrition, and Health, the ACGME committed to developing and hosting the Nutrition Summit. 
"The ACGME is committed to the national effort to address nutrition and health, and to enhance education of physicians in nutrition. I am grateful for the efforts of the experts we convened from across the medical education continuum and nutrition community to exchange ideas on how to more effectively integrate curriculum and experience in treating nutrition into physician education, and to ensure that physicians are prepared to recognize and address food insecurity in patients," said ACGME President and CEO Thomas J. Nasca, MD, MACP.
Nutrition Summit deliberations, recommendations, and resources identified by attendees are now summarized in a proceedings paper that includes guidance for program directors and others who construct curriculum and educational experiences for residents and fellows. These considerations are not requirements, rather, they serve as a reflection of the thoughts of attendees, a roadmap for those planning curriculum, and an indication of the medical education community's support for improving education in diet and nutrition, including recognition of food insecurity, and working with the community to ensure that patient food needs are met.
View these materials and other information about the ACGME's commitment to addressing nutrition on the ACGME's Summit on Medical Education in Nutrition web page.
###
The ACGME is a private, non-profit, professional organization responsible for the accreditation of 13,066 residency and fellowship programs and the 886 institutions that sponsor these programs in the United States. Residency and fellowship programs educate close to 160,000 resident and fellow physicians in 182 specialties and subspecialties. The ACGME's Mission is to improve health care and population health by assessing and enhancing the quality of resident and fellow physicians' education through advancements in accreditation and education.
Attachment
Proceedings of the Summit on Medical Education in Nutrition
CONTACT: Susan Holub Accreditation Council for Graduate Medical Education [email protected] 

Disclaimer: The above press release comes to you under an arrangement with GlobeNewswire. Agrigate Global takes no editorial responsibility for the same.