A Game Changer: Exerkine Corporation Leap Frogs into its Commercial Phase
Dr. Tarnopolsky and suite of products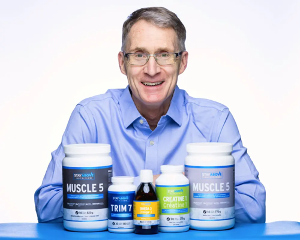 HAMILTON, Ontario, Oct. 17, 2023 (GLOBE NEWSWIRE) — Exerkine Corporation (the "Company" or "Exerkine") is pleased to announce that it has successfully transitioned from its pre-revenue development phase into commercial operations. Importantly, Exerkine's R&D pipeline is maturing and generating patented nutrition-based therapies that are supported by strong clinical results. These therapies are particularly impactful at a time when North American obesity rates and age-related disorders are at pandemic levels.
The biggest threats to North American health are obesity and age-related disorders (i.e. muscle loss, cardiovascular disease, type 2 diabetes, dementia). Current nutritional strategies to combat these health issues have been shown to be ineffective in the long term. Exerkine is poised to change this paradigm through proprietary products that are built and backed by science. Founded by Dr. Mark Tarnopolsky, and in partnership with McMaster University, Exerkine is a Canadian nutritional supplements company built upon decades of research. Utilizing advances in mitochondrial sciences, exercise physiology, and nutrition, Exerkine leverages pharmaceutical-industry R&D standards to create novel nutrition-based products. This rigorous development pipeline sets Exerkine apart by ensuring that its nutritional products are supported by high quality preclinical and clinical research, supported by proven health claims, and meet safety and regulatory standards, which, when combined, deliver superior products to consumers.
Exerkine is led by internationally renowned physician-scientist, Dr. Mark Tarnopolsky, PhD, MD, FRCP(C). As the founder, CEO and CSO of Exerkine, Dr. Tarnopolsky is applying his clinical and scientific expertise to lead Exerkine's commercial and research development. Having successfully co-founded and acted as CSO for Life Science Nutritionals, he has expanded his business acumen as the co-founder and Vice President of Business Development for Systemic Therapeutics, and CSO for SoftTabs. Additionally, he has forged a career studying the impact of exercise and nutritional therapies in the treatment of aging-acquired and genetic disorders. He holds an endowed chair in, and is division head of, Neuromuscular and Neurometabolic Diseases Clinic at the McMaster University Children's Hospital and is an advisor on numerous medical advisory boards. Dr. Tarnopolsky's extensive research and medical knowledge is exemplified by over 500 published scientific and medical manuscripts (h index = 141) and has received high-profile attention from media outlets such as CBC News, ABC News, Wall Street Journal, New York Times, and Time magazine.
"Exerkine is at the forefront of a new phase in its development. Having been supported by McMaster University as a start-up company, we are looking to expand our operations by fostering new partnerships, expanding our research program, and by bring our game-changing evidence-backed products to market." Dr. Tarnopolsky continued to say "we are thrilled to see what the future holds for Exerkine – a company that's truly built and backed by science."
Core to its R&D strategy, Exerkine is actively engaged in developing a diverse patent portfolio. The corporation's initial filing outlined the novel use of interleukin-15, a cytokine known to be involved in a variety of biological pathways, to promote mitochondrial biogenesis and drive improvements in skin health. This patent has been awarded in both Canada (CA2917944C) and the United States (US10064919B2) and has garnered attention from companies in the skincare and beauty industry. Exerkine has since gone on to develop and submit over two dozen patent applications and the company will be making several exciting announcements as its portfolio matures.
As part of its evolving commercial strategy, Exerkine launched its nutrition subdivision, StayAbove Nutrition. Through StayAbove Nutrition, Exerkine is marketing several novel nutrition-based products to the consumer. These products are designed to target a health disorder from multiple pathways to yield a combined therapeutic benefit. Clinical results have shown that these products not only provide preventative options to combat obesity and aging-related disorders, but also show treatment options for those already suffering from these conditions.
Exerkine is excited to present its two flagship products: Muscle 5 (Muscle Enhancement Supplement) and Trim 7 (Weight Management Supplement) under StayAbove Nutrition.
Muscle 5 is a nutritional supplement containing 5 carefully selected ingredients shown to enhance muscle mass and strength in younger and older adults. Unlike single ingredient protein powders, Muscle 5's patented design is proven to build muscle and strength, and has been shown to impact blood cholesterol levels, as well as cognition (Nilsson et al, 2020; Bell et al, 2017; Bell et al, 2019).
Trim 7 is a weight management supplement containing 7 specific ingredients shown to reduce fat mass but preserve lean mass. Trim7's patented design focuses on the mitochondria, the cell's powerhouse, to drive weight loss by turning on the body's natural fat burning pathways. A significant amount of research and development has already been done on this product, including pre-clinical (Nederveen et al, 2021) work, and the company will be announcing its clinical trial results in a press release shortly.
About Exerkine
Exerkine Corporation is a nutra-pharmaceutical company that is developing a new class of therapies to treat obesity and age-related disorders . Advances in mitochondrial sciences, cell metabolism, exercise physiology and nutrition are fueling innovation in nutrition-based therapies.
Exerkine is seeking opportunities to expand its commercial operations, leverage its IP portfolio, and raise capital investment. Additionally, Exerkine provides R&D and consultation services to the nutritional and pharmaceutical industries. Contact us if you wish to learn more and how Exerkine can support your business.
A photo accompanying this announcement is available at https://www.globenewswire.com/NewsRoom/AttachmentNg/28b3b26b-4cb8-4c38-a7c7-a493359842bd
CONTACT: Media contact: Bart Hettinga Chief Operations Officer Exerkine Corporation Email: [email protected] Website: www.exerkine.com

Disclaimer: The above press release comes to you under an arrangement with GlobeNewswire. Agrigate Global takes no editorial responsibility for the same.